Blow it up and start over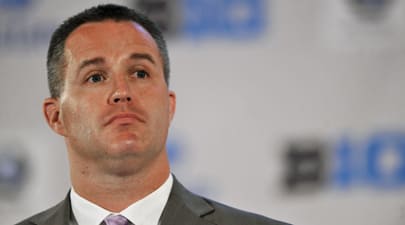 When asked what change he would make to recruiting, Fitzgerald went off on an animated rant that condemned the entire system.
"I'd blow it up and start over," said the ninth-year head coach. "I think it's really antiquated. Put integrity back in it."
"But I'd make it even easier," he said.
Fitzgerald proposes doing away with offers and verbal commitments, too. In his system, once a school makes "a legitimate scholarship offer," the prospect is free to sign it after a 48-hour "cooling off period," which, in Fitzgerald's mind, would ensure that college coaches don't put pressure or "strong-arm kids" to sign.
Fitzgerald would then employ better technology to improve the process of signing a national letter of intent. The coach would "click the mouse" to send the prospect a .pdf file of the LOI. The prospect signs it, sends it back in, and "we're done." It would all be tracked in a database for everyone to see.
There would be two instances in which a signed LOI could be voided: if the program gets put on probation for NCAA rules violations or the coach who signed him gets fired or leaves for another job.
"We technically, in the eyes of the NCAA, have not offered a kid a scholarship yet because we can't do it until August 1," he said with a rising voice. "And we have double-digit commitments. Give me a break. What are we doing? What are we doing here? It's a joke.
"It's an antiquated system. It needs to be looked at. It needs to be evaluated. What's best for the student athletes and their families, what's best for us so that we have some balance in our lives, and obviously what's best to protect the schools. But get rid of the nonsense that goes on. It's a bunch of nonsense, on both sides."
Another practice that drew Fitzgerald's ire is schools extending non-committable offers to prospects. Some programs make offers such as these to get their foot in the door with a prospect, or to get a prospect to come to a camp, when coaches will decide, after seeing the prospect in person, whether or not he is worthy of the offer.
"I had a kid tell me, it's the first time I ever heard this, 'is this a committable offer?' Fitzgerald said with a smirk. "I have no idea what that meant. It's a joke."
When Fitzgerald makes an offer, it's committable, and it's "eye-to-eye," and not on a Twitter direct message, he pointed out.
Fitzgerald laments that the recruiting process is accelerating annually. In his first year as head coach in Evanston, he had two commitments before the start of the 2006 season. This year, he is sitting at 16 with a month to go before the Aug. 30 opener against Cal.
One of the reasons for that breakaway pace is the prevalence of unofficial visits. Prospects are feeling the pressure to commit early and at least reserve a scholarship for themselves somewhere as a safety net, in case other others don't come through later in the process. So they take unofficial visits on their own dime during the spring and summer before their senior years, rather than waiting to take official visits after the season starts, when the school pays for it.
Fitzgerald thinks that schools should foot the bill for those visits because it penalizes lower income families that can't afford to take trips to visit campuses.
"Why don't we take the cost off the table of these players' families?" he asked. "We have a bell curve. On the top end of the bell curve, families can afford to jet set them all over. Bottom end of the bell curve, they're the ones paying the penalty from the current structure.
"They're being forced to make a verbal commitment without having a chance to…really see the school, and evaluate it academically, and evaluate the support staff, and evaluate the coaches and, most importantly, spend the night with the (current players). And get in the dorms and get in the locker room and be a part of the culture."
In Fitzgerald's mind, paying for those visits would help put the brakes on a recruiting cycle that seems to be perpetually speeding up.
"Why do you think all of these kids are committing and decommitting at the end of the process? We can finally pay for them to go see the schools, that's why. That's a big part of it. They're just protecting themselves (by committing early) and making sure they have a place to go to school in case they get hurt. I don't blame them. But then they go and take an official visit, (and realize) 'I don't want to go to school there.' I don't blame them. We should be paying for it."
Fitzgerald also poked fun at some college coaches who are in the practice of sending inspirational messages to recruits via direct messages on Twitter.
"I don't want to be recruiting every day. It's a waste of my time," he said. "That's what I tell kids. I'm not going to send you a JFK quote as a DM. The minute I send you a Martin Luther King quote I want you to send me back a quote and make fun of my ass. What a bunch of losers we are as coaches.
"That has nothing to do with if you want to come to school and play with us. It's all about smoke and innuendo and nonsense. Build a relationship, talk to the kid. What's important to the kid and his family. Get you the answers and let's go."
Fitzgerald has long taken a hard-line approach with regard to commitments and he knows that it may have cost him some decommitments along the way. When a prospect commits to Fitzgerald, he is promising to sign. In turn, Fitzgerald is promising not to recruit anyone else with the prospect's scholarship.
He likens the commitment to an engagement and national signing day to the wedding. If a committed prospect decides to visit another school, he is, in essence, going on a date with someone else. That, to Fitzgerald, means in no uncertain terms that the engagement and marriage is off.
"You want to get rid of this decommitment and pull an offer nonsense and put some integrity into it, put teeth in what it means," he said. "I get made fun of for it and I don't care…
"We're going to do it that way because I feel good about it. And our fans had better get ready because we're going to have more kids decommit because the process is so accelerated, that's the way it goes.
"We've got (coaches at other colleges) that still recruit them. When you commit, tell guys to stop calling you and direct message you, and they don't. They don't. So what are we teaching kids? 'Well, that's just part of the process.' Is it right? I don't know. I'm not trying to be holier than thou but it is not working…it needs to be analyzed."