Deuce decommits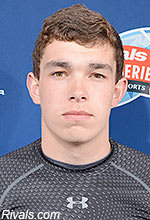 Sunday was a good news, bad news kind of day for Northwestern.
In the morning, the Wildcats got the good news: three-star offensive lineman
Nik Urban
of Willoughby (Ohio) South committed to become the third member of the Class of 2016.
But that night came the bad news: three-star quarterback
Deuce Wallace
tweeted that he had decommitted from Northwestern to commit to Vanderbilt.
He also tweeted a "thank you" that read more like an apology:
"I want to thank the Northwestern family and coaches for the opportunity to play football at such a prestigious program," he wrote. "But after much thought and a lot of prayer, I have decided to play football and attend my dream school."
The fact that Wallace, who had been the first member of the Wildcats' class, chose Vanderbilt shouldn't come as that much of a surprise. Wallace hails from Sevierville, Tenn., just a couple hundred miles from Nashville, so it will be much easier for his friends and family to watch him play. Plus, there's always the pull of the SEC, which most of the time trumps the Big Ten in a southern state.
The timing of Wallace's decommitment, just over a month after pledging NU, certainly raised eyebrows, even if he admitted that his commitment to Northwestern while on a weekend overnight visit surprised even himself. Moves such as this one typically don't happen until the weeks or even days before National Signing Day. This year, for example, the Wildcats lost two commitments within five days of signing day, so if there is a silver lining for the Wildcats, it's that it happened so early. The Wildcats had two other three-star quarterbacks with offers visit during spring practice --
Anthony Brown
and
Joshua Jackson
-- so expect their recruiting efforts to focus on them.
Beyond all of that, however, was the fact that Wallace seemed like such a model first commitment. He was a quarterback with a big personality, the kind of player that other players might want to play with. He was also one of the Wildcats biggest recruiters. He reached out to several prospects just hours after he committed on March 14, and last weekend he even visited Evanston again to help recruit the prospects in town for Northwestern's open spring practice.
Now, just like that, Wallace will be trying to lure prospects to Vanderbilt.
When he committed to Northwestern, Wallace told WildcatReport the three major reasons for his decision. There was "Chicago and what Northwestern does with internships and opportunities," there was head coach
Pat Fitzgerald
and offensive coordinator
Mick McCall
("I fell in love with them"), and there was the chance to play in the Big Ten conference.
Those three selling points are still very much intact for Northwestern. They just weren't quite enough to keep Wallace from jumping.