Three-Point Stance: Big 12 weight room, elite 2022 prospects; playmakers
1. Checking out the Big 12 weight room
Let's wrap it up with our weight room metaphor with the Big 12. These categories speak for themselves.

POWER LIFTERS
Oklahoma — The Sooners are it in the Big 12 and that doesn't look like it will change much with Texas up and down. I expect many more Big 12 titles coming up.

STRONG AND STEADY
Texas — The Longhorns could be in another category below this one if you want to argue but they remain the second best power program in the conference. However it's puzzling that they haven't broken through under Tom Herman.

Baylor — This was a tough call because they were a force under Matt Rhule and a lot is unknown with new coach Dave Aranda. Time will tell.

Okahoma State — The Pokes are always in contention it seems and Mike Gundy is a terrific coach.

ON THE COME UP
Kansas State — The Wildcats had a good season last year and new coach Chris Klieman has them moving in the right direction.

Iowa State — Matt Campbell has talent on his roster, a good quarterback in Brock Purdy and they can surprise some people as usual.

NEEDS MORE GYM TIME
TCU — Gary Patterson is a great coach and TCU has been up and down in recent years so they were just on the edge of come up. I just don't know if it has the roster talent.

West Virginia — I like Neal Brown as a coach but I expected more from the Mountaineers last season. I'm not sure how far away they are from being a contender.

WEAKLINGS

Kansas — Les Miles has them on the come up in recruiting but until the results on the field happens, the Jayhawks will remain in this category.

Texas Tech — Patrick Mahomes helps recruiting with all the attention he's getting, but roster depth is an issue.
2. Sneak peek at some elite 2022 defensive players
On Tuesday I highlighted some 2022 offensive players as we get close to releasing our first rankings for the class. Now I take a look on defense and this 2022 class is special on that side of the ball.
DE Tyre West — West is a big and physical kid who moves well and could end up being a defensive tackle down the line.

CB Khamauri Rogers — Rogers may be skinny but he's long and very good in coverage and already committed to LSU.

DE Dani Dennis-Sutton — A big athletic end with a huge frame to fill out, Dennis-Sutton is a monster.

LB Shawn Murphy — Murphy is a guided missile at linebacker who has good size and can cover a ton of ground.

DT Travis Shaw — Shaw is tall and massive but moves like a defensive end and can chase the passer.

S Domani Jackson — Jackson looks like the next dynamic defender out of California with good size and great range.

LB Gabe Powers — Powers is a huge linebacker who plays all over the field and could already be a hybrid in the right defense.

DT Walter Nolan — Want to see a dominating defensive tackle? Nolan could be the best one we've seen in a few years.

DE Shemar Stewart — Stewart is a physical specimen with all the tools you want from an edge rusher.

CB Jaheim Singletary — Singletary is long, fast and loves to be out on an island. His competitive nature is excellent and he wants to be great.
3. Top returning defensive playmakers in college football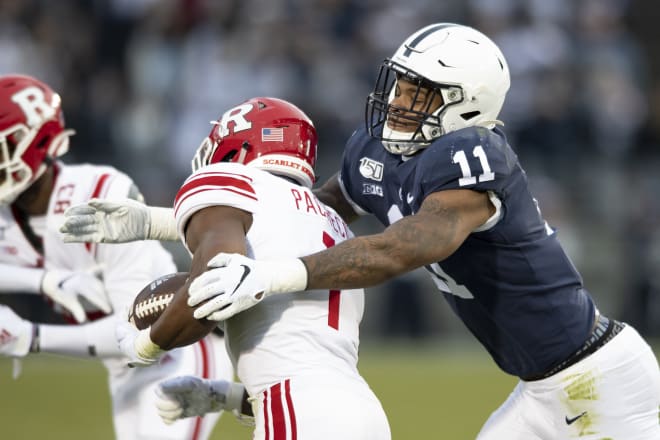 On Tuesday, I revealed my list of the top playmakers on offense returning to college football. But what about the defense? Here you go.
LB Micah Parsons, Penn State — The most dominant force on defense in college football is a linebacker who is a rare athlete.

CB Derek Stingley, LSU — Stingley is the best defensive back in college football as a sophomore and will only get better.

DE Greg Rousseau, Miami — Rousseau is the best edge rushing in college football and will be a nightmare for quarterbacks in the ACC.

LB Dylan Moses, Alabama — This is assuming Moses comes back 100 percent from injury. If he does, he will be off the charts in playmaking ability.

CB Jevon Holland, Oregon — Holland is the best player on the west coast when it comes to playing the football.

DE Chris Rumph, Duke — Rumph won't get the attention of others on this list and isn't surrounded with the same talent, but he's still dominant.

LB Paddy Fisher, Northwestern — Fisher makes every tackle that is within reach and that's a great playmaker to me.

DT Marvin Wilson, Florida State — It's hard to be dominant from the defensive tackle position, but Derrick Brown did it last year and Wilson could do it this year.

LB Hamilcar Rashed, Oregon State — Rashed can make plays in the backfield and run plays down as well for an underrated Oregon State team.

DE Ronnie Perkins, Oklahoma — Perkins is ready for a breakout year and was hard to handle on solo blocking assignments last season. He's the best in the Big 12.