New Wildcat LB signee Mac Uihlein is a first for Fitz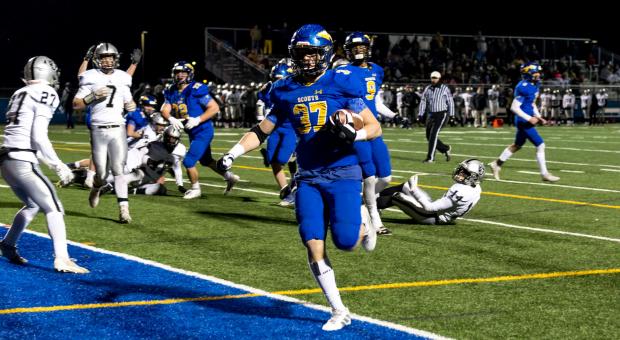 Mac Uihlein is the first of a kind for Northwestern head coach Pat Fitzgerald.
Fitzgerald often says that Wildcat recruiting begins and ends in Chicagoland, but he had never landed the top-ranked player in Illinois. Until Wednesday.
Uihlein, a linebacker from Lake Forest who was one of 14 new Wildcats to sign his national letter of intent on Wednesday, is the No. 1 player in the state, according to Rivals.
Fitzgerald has signed plenty of four-star prospects from the Land of Lincoln during his 15 years in Evanston, including stars like Justin Jackson, Clayton Thorson and Patrick Ward. But he had never before brought in the state's top player.
When informed of his unique accomplishment, Uihlein (pronounced YOU-line) was unimpressed. Sounding like his future coach, he says he doesn't pay attention to recruiting rankings.
"First of all, you can't compare me to those guys," he said. "I didn't even know I was No. 1, to be honest with you. I don't pay attention to that.
"I've got a long way to go over the next five years. If I keep working and keep my head down, it will all sort itself out."
Uihlein is a linebacker, a big hitter who has the athleticism to roam sideline-to-sideline and make plays. He's aggressive, impulsive and violent.
He sort of talks like a linebacker, too. He's open, free-wheeling and blunt.
Ask him if he's all set to watch Northwestern play for the Big Ten Championship against Ohio State on Saturday, his answer has all the force of meeting a tailback head on in the hole.
"Does a bear **** in the woods?" he snaps.
When asked what he thinks of the Wildcats' defense, which currently ranks second in the nation in scoring, his answer again goes right to the point.
"The Irish Law firm is kicking ass, I can tell you that," he says.
Yes, they are. The linebacking trio of Paddy Fisher, Blake Gallagher and Chris Bergin are all among the Top 15 tacklers in the Big Ten and are the heart-and-soul of the Big Ten's top defensive unit. Uihlein could be next in line, even if he isn't Irish.
When you ask Uihlein which one of the three he is most like as a player, he is puzzled. He pauses.
"That's a good question," he says.
After mulling it over for a few seconds, he goes with Gallagher because he's going to play Gallagher's weakside position at NU. Gallagher is a player who thrives on contact. Fisher said last week that Gallagher "hits everything that moves."
Uihlein thinks that's a good fit.
"I reaaallllly like to hit people," he says.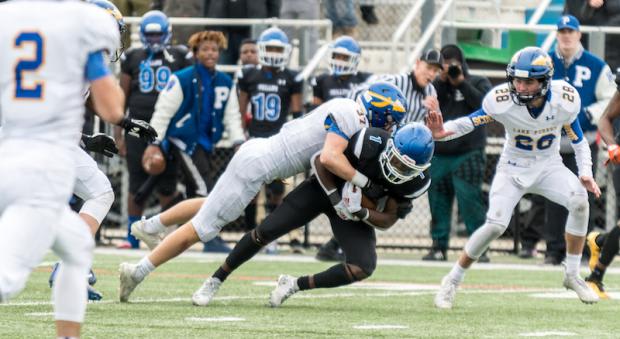 Uihlein didn't get a chance to hit anyone this season. Lake Forest didn't play a single game. Neither did any high school football team in the state of Illinois.
How hard was it for Uihlein, who lives to play football, to sit out his senior year?
"It sucked," he says with his typical directness. But Uihlein doesn't only think of himself. "It could always be worse."
Uihlein thinks about the spring sports athletes in Illinois. Those kids lost their junior years and, he thinks, they could also lose their senior years, unless things improve in a hurry with the coronavirus. Uihlein should know.: he plays – or used to play – lacrosse.
And, he adds, at least he gets the chance to continue his career in college. For most others, he knows, high school is the end of the line.
Illinois still might play football in the spring, as they initially intended when they postponed the sport state-wide in August. It's unknown if they'll be able to pull it off.
But either way, Uihlein won't be there. He's one of four early enrollees in the Wildcats' class who will start classes at NU in January to get a jump start on his college career. Wide receiver Jacob Gill, quarterback Brendan Sullivan and running back Anthony Tyus III are the others.
Uihlein can't wait to play for his new coaches. He'll be learning how to play linebacker under two of the best to ever play the position at Northwestern, -- or anywhere else, for that matter. Linebackers coach Tim McGarigle is the NCAA's all-time leading tackler, while Fitzgerald won back-to-back Butkus Awards as the best linebacker in the nation in 1995 and '96.
"As much as I love my (Lake Forest) teammates and I love my guys, I can't wait to start my college career," he said.
Uihlein is listed by Rivals at 6-foot-1 and 205 pounds. But he says his dimensions are considerably different now.
"I'm 6-foot-1 and a lot of pounds," he says. He estimates that he now weighs in somewhere north of 220.
While he wasn't been able to play football this fall, he did spend a lot of time training for it. Uihlein works out six days a week. On Monday, Tuesday and Thursday, he spends almost three hours at his gym, doing a rigorous weight-lifting regimen. On Friday, it's about an hour and a half, while Wednesday and Saturday are mostly about stretching.
On top of that, he does sprint work three times per week to improve his speed.
While Uihlein is bigger and stronger, he admits that he's not ready to play football. He thinks he will probably shed a few pounds once he starts playing again.
"There's been a lot of working out and a lot of lifting, but not a lot of football conditioning," he said. "Football shape is different."
Uihlein is keeping any celebrations low-key on Wednesday. He'll just spend time with his family at home.
In past years, signees might have had a signing ceremony at their high school and parties afterward. That's not possible this year, although Uihlein doesn't mind it.
"No one dreams of signing day," he says.
But they do dream of playing college football, and Uihlein appreciates the position he's in.
"Everyone dreams of going in the NFL and playing at the highest level," he says. "You get to this stage, and you realize how difficult it is, and you didn't think it was possible. But you get lucky and things go your way and you can get here.
"I have a great opportunity in front of me. I know how lucky I am."