A lasting memory of Randy Walker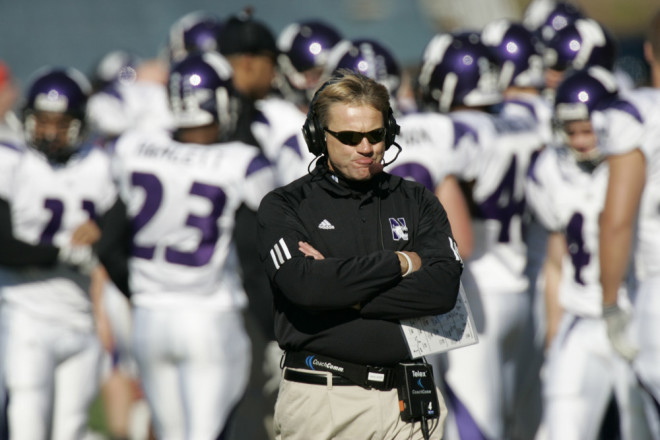 This column was originally published on July 6, 2006, the day Randy Walker was buried in Evanston.
I didn't know Randy Walker on what I'd call a personal level. This was only my second year covering Northwestern football for WildcatReport and my first with media access.
Our relationship was purely a professional one. I'd see him after practices or at press conferences and he'd shake my hand. I'd ask some questions and he'd answer them, but that was about the extent of it. I liked and admired the man like countless other Wildcat fans, but I don't have any particularly poignant stories to tell, like so many of the people that posted messages on the WildcatReport Football Board over the last several days.
Just a little over three years ago, though -- after the dreadful 2002 season -- I was in favor of firing Randy Walker. So certain was I that this "Johnny off the pickle boat" was not the right guy for the Northwestern program, I was willing to drive him to the airport.
In the three years since I've gone from a let's-run-Randy-out-of-town-on-a-rail guy to a let's-give-Randy-a-lifetime-contract guy. Just about any Northwestern fan could cite the reasons for my transformation. Walker gave Northwestern the stability and consistency that Gary Barnett couldn't; he won six games for three years running; he took the Cats to three bowl games; he beat every Big Ten team; he won 14 of his last 24 Big Ten games.
And most of all, his teams got up off the deck each time someone punched them in the mouth and floored them.
But on this day when Coach Walker will be laid to rest in Evanston, I can't stop thinking about one of my last memories of him. It's the image that I'll remember whenever I think about this 5-foot-8 man that cast a giant shadow over all of college football and caused all those people -- fans of just about every program in the country -- to come to our small site and pay their condolences.
This happened after the first practice of spring football a few months ago. The session had started out on a warm and sunny March afternoon, but when the sun went down and the wind kicked up off of Lake Michigan, it felt like November. By the time practice ended, it was cold -- cold enough to make you hide your hands in the end of your sleeves and jump up-and-down on the balls of your feet.
The session ended with the players running timed sprints and there was a small knot of reporters there, ready to talk to players and coaches and hoping they could get into their warm cars soon.
That's when Walker's wife, Tammy, walked through the north end of the practice field with the Walkers' black Labrador retriever, Magic, on a leash.
Coach Walker got a glimpse of the dog and smiled. He started talking to Magic as the dog approached.
"There he is! There's my dog!" said Walker in that exaggeratedly childish dog-talking voice we all use.
Walker gave his wife a hug. Then, he scratched the dog's ears and shook its head, all the while talking in that voice.
They began playing. Walker would run a few steps one way and Magic would follow. Walker jumped the other way and Magic would follow. This CEO of a multi-million dollar football operation was juking and faking, arms and legs all over the place, smiling and losing himself in playing with his dog.
Then, he let Magic jump up and kiss him, right on the lips.
I watched the whole thing with a sense of wonder. It's often said, in a moment like that, that the guy "forgot where he was." But Walker forgot how old he was, too. There he was, in front of a group of media, playing with a dog like a 10-year-old boy.
Then, he came over to the shivering reporters. "How y'all doin'?" he boomed with a big smile and a twinkle in his eye.
You could see that Walker loved this stuff. He loved coaching football at Northwestern. He loved spring practice. He loved the fact that his wife could come by with his dog after practice.
He loved life.
I don't know why, but the images from that night stuck with me. I would see him a few more times after that, when he talked to the media after practices and after the spring game.
And then, just like that, I found out last Friday morning that he was gone for good. I'd never get a chance to ask him questions and let him speak into my little digital recorder again.
The story about Walker and his dog doesn't tell you a lot about the kind of football coach that Walker was or what he was like as a person. But it does tell you that this was a guy that knew how to keep things in perspective and enjoy the little things in life.
Do you think Lloyd Carr would play with his dog after practice in front of a bunch of writers? How about Jim Tressel?
So that's the memory that I'm going to try to think of whenever Walker's name comes up in the future. I'm going to think of this tough, old-school disciplinarian dancing around with his dog in the cold, crisp air as the darkness began to swallow the field.
Rest easy, Coach. We will miss you.