A lucky fumble made Colter a Cat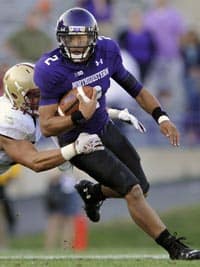 As Northwestern opens practice on Monday, perhaps no player is more symbolic of the Wildcat program than quarterback
Kain Colter
.
The senior returning starter is the Wildcats' top playmaker, he represented the program at Big Ten Media Days last week, and his No. 2 jersey can be found in stores throughout Evanston.
Yet if not for a freak injury he suffered in 2009, he wouldn't have been a Wildcat. He would most likely be playing for Stanford, instead.
Colter says that he sometimes allows himself to think about "what if." But even though Stanford has played in BCS bowl games after each of the last three seasons, the 6-foot, 190-pounder says he has absolutely no regrets.
"When you look at my career now, I've had a great career," Colter said. "I've done some things that I never thought I'd be able to do.
"Looking back, if I did end up at Stanford or Nebraska, it could have been totally different. (Andrew) Luck was there (at Stanford). I probably wouldn't play. I feel like I've been blessed to play at Northwestern. It was the perfect fit for me."
Colter had committed to Stanford in the spring of his junior year and was all set to play for the Cardinal when fate intervened in the form of a fumble.
On the fourth play of the season opener for Englewood (Colo.) Cherry Creek, Colter reached for a loose ball with his right arm and was hit in the back of his right shoulder. For the rest of the game, he felt a sharp pain every time he threw the ball.
"No big deal," is what he was thinking.
But an MRI of the shoulder taken the following day showed that he had severely torn his labrum. One doctor recommended having surgery, which would have ended his season immediately. His family doctor, though, thought he might be able to rehab it.
So, after missing three games, he came back, opting to have surgery after the season. He played one game at wide receiver, but then was moved back to quarterback, where he played for the rest of the year.
Colter had what he called "a pretty good season" and was named to the All-Colorado team as an athlete in 2009.
Stanford, however, seemed to disagree. The coaching staff, then headed by Jim Harbaugh, began to "slow-play" him, he says. "I felt like they didn't want me to come play quarterback."
And while Colter always had the ability to play other positions, his heart was set on taking snaps at the college level.
Colter's offer, like all other Stanford offers, was contingent upon him getting admitted to the school. Stanford is every bit as stringent on athlete admissions as Northwestern, if not more so. Cardinal coaches began dragging their feet on the admissions process, telling Colter that he wouldn't find out whether he was admitted until late January, just a couple weeks before signing day.
Colter, fearful of getting "left hanging" without a scholarship if he didn't get admitted, decommitted from Stanford in December and began looking elsewhere. It was a difficult decision, but as he said at the time, the loyalty he was showing Stanford was not being reciprocated.
Northwestern, which had been one of his final schools before he picked Stanford, was one of the first schools he called.
"We were disappointed with his decision [to commit to Stanford], obviously, but we told him, 'If anything changes, give us a call," recalled head coach
Pat Fitzgerald
. "We're going to respect your commitment.' When he called us, I was very happy to take that phone call."
Now he's happy to call Colter his No. 1 quarterback.
The irony of that entire saga is that Colter carried a 3.8 GPA at Cherry Creek and scored a 26 on his ACT, numbers that should have gotten him admitted to Stanford -- or any other school, for that matter. That led Colter to believe that it was his injured shoulder, and not his application, that was the real impediment to admission.
After he heard what he thought was less than the whole truth from Stanford, Colter found Fitzgerald, "who always shoots you straight" and his staff very refreshing. Fitzgerald says it was just business as usual for Northwestern.
"I think that gives me great confidence in the way that [I] and my staff goes about recruiting," Fitzgerald said. "I really do. We were honest, as we are with every young man."
Colter's time in Evanston hasn't been all touchdowns and tuxedoes, however.
As a true freshman in 2010, he was pressed into duty in Week 11. Starting quarterback Dan Persa tore his Achilles tendon the week before, which sabotaged the Wildcats' season and forced Colter into action. He estimates that his arm strength was about "50 to 60 percent" of what it was before the injury, and those handful of snaps in the last two regular-season games and the Ticket City Bowl -- all losses, no less -- cost Colter a potential fifth year of eligibility.
Yet when Fitzgerald asked him to step up for the good of the team, Colter didn't hesitate. The coach hasn't forgotten it.
"We asked him to fall on the sword when Danny went down," Fitzgerald said. "Just think if Kain had his redshirt year to come back and play a fifth year next year. And Pat Ward would have been back this year if we could have redshirted him. Those are the kinds of things I think about when I go out for a jog.
"Kain wasn't the guy his first year that he was today, but that's because of that shoulder injury he had. He was willing to do that. He's a special guy."
Colter, too, says he often ponders that "what if," as well.
"I think about that a lot," he said. "One more year is critical for a lot of guys. It didn't work out that way. I like where I'm at now, I put myself in position to reach the goals that I want to reach. If I could have had another year, I would have another year of growth, another year of maturity. It didn't work out that way, the team needed me at that point, so…."
That's been one constant in Colter's career in purple -- doing what is best for the team.
In 2011, he started the first three games at quarterback and then stepped aside when Persa returned to the lineup. He played wide receiver and running back for the Wildcats as coaches tried different ways to get the ball in his hands, and he also got quite a bit of playing time at QB the rest of the season as Persa was in and out of the lineup.
In 2012, he came into the season as Northwestern's leading passer, rusher and receiver, a rare feat for any player in any program. The No. 1 QB job would finally be his -- or so he thought. He wound up getting the majority of snaps last season but had to split time with
Trevor Siemian
, who was the more polished passer of the two and entered the game when the Wildcats wanted to throw the ball more.
Colter never begrudged Siemian or the coaches. Again, he did what was better for the team.
Now, going into his final season, it's come full circle. The player that was so intent on playing quarterback at the start of his career is now hoping to play other positions, too.
"I think it would be cool to play in different places because it would help me out for my goal to play in the NFL," he said. "I think everybody knows that I'm not the tallest guy in the world…for me to show my unique abilities will help me."
He says that the trend toward the read-option in the NFL has given him the hope that he could be a part-time quarterback and part-time receiver, just as he has been in Evanston.
"The game's developing, with [guys like] RGIII," he said. "They're doing a lot of read-option stuff. I think a guy like me can step in there and run that read-option stuff to take the load off of RGIII. Mobile quarterbacks take a pounding.
"At the same time, I can go in there and play slot receiver and do some other things. You look at guys like Kordell Stewart, Antwaan Randle El, guys that played a bunch of positions, so it's possible."
Fitzgerald says that no matter what happens at the next level, Colter will be remembered long after his career ends at Northwestern.
"His legacy will long outlast his time with his helmet on in this program, there's no doubt,"Fitzgerald said. "It's not just his playing ability. He's grounded in his faith. If he's not going to play football for a while, he's going to go to med school.
"If one of my sons can turn out that way, you can check the box for me."