Anthony Gaines enters the transfer portal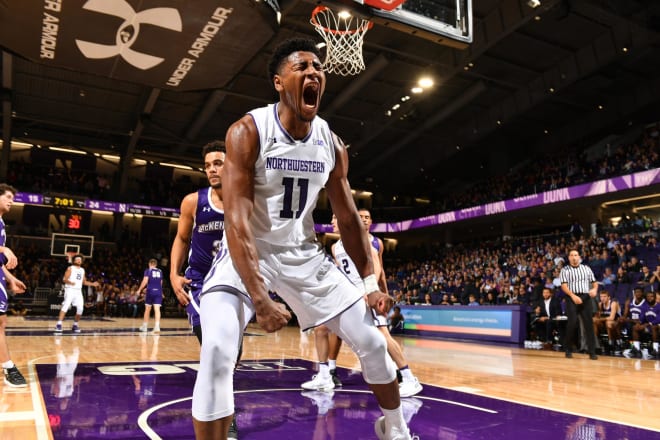 Northwestern got a little thinner on the wing Monday afternoon as redshirt junior Anthony Gaines entered the transfer portal as a grad transfer.
He joins Miller Kopp as the second Wildcat to announce his intention to leave the program.
While Gaines' numbers won't blow anyone away, he was the team's best defender and a two-time team captain in Evanston.
Gaines averaged 5.1 points and 3.8 rebounds per game on 37% shooting from the field and 28% from three-point land in his career. He started five games this past season and logged 20 minutes per game.
What Gaines did well was everything that didn't show up in the box score. He was a tremendous defender, able to lock down the opponents' leading scorer. Just ask Marcus Carr, Minnesota's leading scorer, who was shut down by Gaines in a Wildcat win in February.
Gaines was also a team leader, as evidenced by his captaincy the last two seasons, and gave the Wildcats a "junkyard dog" mentality.
Gaines' willingness to guard Carr full-court was an example of his toughness and fearlessness, something that is in short supply on Northwestern's current roster. An excellent athlete, Gaines could guard point guards to small forwards, and what he lacked offensively he made up for as a "glue guy" for the Wildcats.
Right now, Chase Audige is the only reliable perimeter defender on the roster, at least until the incoming freshmen arrive.
Gaines' departure puts Northwestern in a tough spot. Coaches now have to fill two wing spots in the rotation: Kopp was a starter and mainstay, while Gaines one of the first players off the bench.
The Wildcats will also miss Gaines' leadership, which is a hard thing to find in the transfer portal. Gaines had the respect of his teammates because he had been there for four years; anyone Northwestern is able to bring in from the portal will be "the new guy" and will have to learn the system from scratch.
With two veteran wings to replace, head coach Chris Collins has some work to do in the portal. At least there are plenty of options available; there are currently more than 1,200 players in the portal, per @VerbalCommits.