Cats offer four 2021 QBs in one day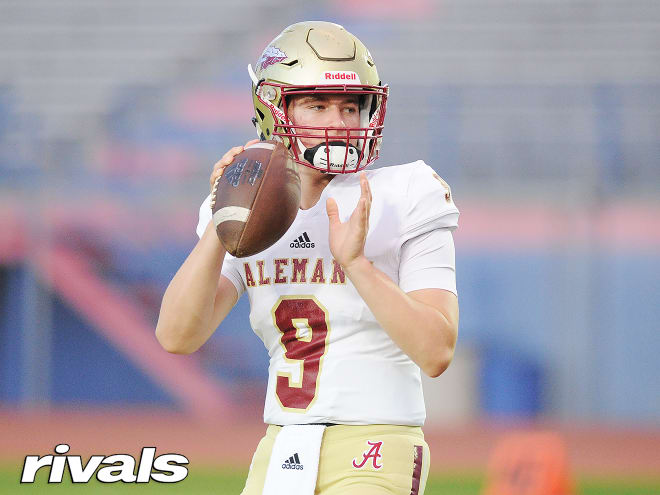 There's no question that quarterback is a top priority for Northwestern's 2021 recruiting class. The Wildcats showed you just how much of a priority it is on Thursday.
The Wildcats offered four 2021 quarterbacks yesterday: three from California and one from Texas. All four of them tweeted the news within hours of each other.

It makes sense. Northwestern is coming off of a season in which it had arguably the worst quarterback play in the nation, so help is needed. The Wildcats played five different quarterbacks who combined to throw for just 1,440 yards, with six touchdowns and 15 interceptions in 2019. That's why Northwestern finished 126th in passing in the country and dead-last, 130th, in passing efficiency.
More importantly, this is the first opportunity for new offensive coordinator Mike Bajakian to recruit his guy for the most important position on the field. No person will do more to determine Bajakian's success then the player that lines up behind center.
There are two pro-styles and two dual-threats among the quartet, but, regardless of how they are classified, they all have the ability to extend plays and make off-platform throws. Bajakian said when he was hired that he liked athletic quarterbacks, and these four certainly prove it.
Here are a look at the all four quarterbacks.
Peter Costelli
Peter Costelli is one of two four-stars from California on the offer list and is the No. 9 ranked pro-style QB in the nation. His 13-school offer list is highlighted by Cal, LSU, Nebraska and Oregon. He is rumored to be a Nebraska lean at this point.
Costelli completed 54.8% of his throws for 1,992 yards in 2019, with 23 touchdowns and five interceptions in leading Mission Viejo to an 11-1 mark and the second round of the playoffs last season.
Kyron Drones
Kryon Drones is an athletic, dual-threat from Northwestern's recruiting hotbed of Houston. Northwestern is the sixth school to join an offer list that also includes Arkansas and Missouri from the Power Five.
Drones completed 57.7% of his throws for 3,390 yards, with 46 touchdowns and 10 interceptions in leading Shadow Creek to the Class 5A title last season.
Kajiya Hollawayne
Note: Hallowayne does not have a season highlight tape on Hudl, so this is one of his longer individual game highlights.
Kajiya Hollawayne is an athletic, 6-foot-4, 205-pounder who can make plays with his arm or his legs. Northwestern is his sixth reported offer, joining Kansas and UCLA from the Power Five. The Bruins offered him in July and figure to be a front-runner.
Hollawayne completed 57.8% of his passes for 2,330 yards, 22 touchdowns and 10 interceptions last season. He added 932 yards on 134 carries (7.0 ypc) and scored 13 TDs on the ground as San Jacinto went 10-3 and made the Division 6 semifinal.
Miller Moss
As a four-star and the No. 7 pro-style quarterback in the nation, Moss is the highest-ranked QB of the bunch, and he has an offer list to prove it. Alabama, Auburn, LSU, Miami, Michigan and USC are among the 20 schools who have already extended offers.
Moss is a pocket passer who threw for 3,220 yards, with 30 touchdowns and 10 interceptions while leading Bishop Alemany to a 9-3 record and the Division 3 semifinal in 2019.
It's worth mentioning that Northwestern offered three four-star 2021 quarterbacks last year, but that was under previous offensive coordinator Mick McCall. All committed to different schools last summer: J.J. McCarthy picked Michigan, Jalen Milroe went with home-state Texas and Jake Rubley chose Kansas State.