Collins has an ally in Whitney Young coach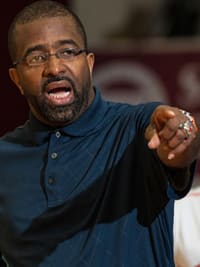 If new basketball coach
Chris Collins
wants to build Northwestern into a "top-notch program," as he stated at his introductory press conference on Tuesday, he's going to have to make inroads into the Chicago Public League and, in particular, schools such as Whitney Young.
Collins has only officially been on the job for about 48 hours, but he already has an ally in his quest to build a pipeline from Chicago to Evanston: Whitney Young head coach Tyrone Slaughter. The leader of the powerhouse Dolphin program thinks the hiring of Collins was "tremendous" for the Wildcats, and he has pledged to do whatever he can to help the rookie coach.
"I'm excited to see the move," said Slaughter, who is in his ninth year at Whitney Young. "I know many people were considered for the job, but this was an organic fit. I think it's a wise and prudent move for Northwestern."
Collins, who as an assistant at Duke had been recruiting Dolphins star
Jahlil Okafor
, the No. 1 player in the Class of 2014, has already reached out to Slaughter, the coach of one of the most prominent high schools in the state both athletically and academically. The Dolphins finished 27-4 in 2012-13, losing to eventual state champion Chicago Simeon in the sectional finals of the state playoffs.
The two coaches spoke a few days ago, and Slaughter's said his message to Collins was simple: "Anything I can do to help him be successful, I'm more than willing to do that," he said.
Slaughter says that he expects Northwestern to be much more active recruiting the Public League under Collins than it was under his predecessor,
Bill Carmody
. Only two Public League products were recruited to Northwestern in Carmody's 13 years at the helm: Sterling Williams, who played at Whitney Young, and Michael "Juice" Thompson, who came from Lincoln Park.
Slaughter is confident that Collins, a Northbrook (Ill.) Glenbrook North product with deep ties to the Chicago area, will come in and do the work necessary to revive the mostly dormant relationship between NU, Whitney Young and the entire Public League.
"The biggest part of building the pipeline is hard work," said Slaughter. "You have to bring your hardhat and go to work. One thing we know about Chris from the job he did at Duke was that he was not afraid of work."
Collins was Duke's lead recruiter for Public League stars such as Julian's Sean Dockery and Simeon's
Jabari Parker
, the No. 2 player in the country in the Class of 2013. He also brought in Jon Scheyer from Glenbrook North, who, like Parker and Collins himself, is a former Illinois Mr. Basketball award winner.
That willingness to spend time to build relationships with Public League coaches was something that Slaughter did not see from Carmody, who was fired earlier this month.
Slaughter points out that Northwestern did not land a single Whitney Young player in his time leading the Dolphin program (Williams was recruited to NU before Slaughter was the head coach). That's despite the fact that Whitney Young is a magnet school as well known for its academics as it is its basketball program.
"I think that's woeful," said the outspoken Slaughter, who claims that Whitney Young has more graduates playing college basketball than any other program in the state. "We've had players equal to their (academic) standards. Our kids graduate, we're No. 2 in the state academically, and our average ACT score is 27.6.
"I don't know why Whitney Young is not a destination for Northwestern. I'm hopeful that all those things will change (under Collins)."
Slaughter says that Northwestern assistant coach
Tavaras Hardy
was often recruiting players at Whitney Young and other Public League schools. But he maintains that for major prospects like Whitney Young's Okafor, a five-star center and the No. 1 player in the country, or
Paul White
, a four-star forward who is ranked 43rd in the country and has an offer from Northwestern, the head coach has to be more involved than Carmody was.
"It's more about the head coach," said Slaughter. "The head coach has to take the lead with high-caliber players."
Slaughter is certain that Collins will be willing to take that lead role.
"He'll get into the Public League and make people see the value of Northwestern because there's no doubt in my mind that we have kids that can succeed at Northwestern."