Fitz defends recruiting other school's commits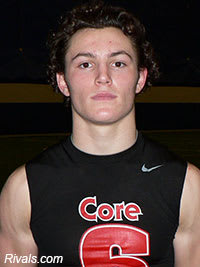 CHICAGO-Northwestern head coach Pat Fitzgerald has become somewhat famous for his marriage analogy in recruiting.
To him, a commitment is like an engagement, so if a player who is committed to Northwestern wants to visit another school, the wedding may be off. He has lost more than one commit to his hard-line stance over the years.
"If you decide you want to open up your recruiting, that's fine," he said at Wednesday's National Signing Day press conference. "Then I'll make the decision on whether or not we want to continue to recruit you."
This year, however, the shoe was on the other foot, and it was Fitzgerald playing the role of the homewrecker and breaking up potential marriages.
Three of the Wildcats' last four commitments in the 2015 class were committed to another school, including two who jumped on board in the last five days. When Zach Allen decommitted from the Wildcats on Saturday, Fitzgerald turned around and got a verbal from two-star cornerback Montre Hartage, a Georgia Southern commit, the very next day. Then, after Grant Perry decommitted on Monday, Fitzgerald got three-star wide receiver Flynn Nagel to flip from Duke on Tuesday. (The third decommitment is Trae Williams, who had been committed to Ohio when he pledged Northwestern in January.)
So how does Fitzgerald reconcile his engagement philosophy with his own poaching of other school's recruits? Does that make him a hypocrite?
Fitzgerald defended his actions in those cases, saying that his approach is honest and above board. When he goes after a commitment from another school, he goes through the player's coach first to gauge interest and only proceeds if the prospect wants to be recruited and the coaches at the other school are well aware of the situation.
"We to reach out, first and foremost, to their high school coach and say we may have something come available," he explained. "We just want to let you know, No. 1, and then we reach out to the families and said, 'If we have something available, would you be interested. Yes or no.'
"If the answer is no, then we move on. If the answer is yes, then the next step is…that you have to reach out to that school and tell them that you're opening up your recruiting. Then I'll reach out to the other coach and let him know that we decided to recruit their guy.
"So I have no problem with what we do. I don't think I'm talking about of both sides of my mouth. I think I'm very up front, there's no hidden agenda. And if the young man and his family want to look at Northwestern, I think it's my job to recruit those guys."
Fitzgerald reiterated his disdain for the present recruiting system, in which players are committing earlier and earlier in the process, only to decommit later and later. He lost four commitments in this recruiting cycle -- Allen, Perry and four-star twin brothers Andrew and David Dowell, who committed in April only to decommit in July. (The Dowells committed to Kentucky, but then decommitted again before eventually signing with Michigan State.)
Fitzgerald would like to have a much more open, technology-based system, where any offers made are recorded in a national database where everyone can see it. Then, the prospect can sign with a school any time he wants, after a mandatory 72-hour "cooling-off period."
As it stands now, getting a player's verbal commitment is only half the battle. Fitzgerald said he and his staff recruit "right up until signing day," no matter when the player made a verbal commitment.
They also have a contingency plan "if some things change," which is why they were able to react so quickly after Allen's and Perry's decommitments.
And even though they both occurred in the last five days, Fitzgerald didn't feel limited by the deadline of National Signing Day.
"Maybe if we would have had a couple scholarships that were available today, then we'd continue to work through the process," he said. "If that meant that we fill them here tonight, tomorrow, a week from now, a month from now, or we held onto them and felt like we would roll it over into next year's class.
"Those are all pieces of the puzzle that you have to make the decision on. We felt strongly that the young men we had the opportunity to add were the right fit for us, right here, right now. We're just ecstatic we were able to do that, and fired up that those two guys are part of it."
Nagel, a Lemont (Ill.) product, is just as ecstatic.
"(Northwestern) had a kid back out (Perry), so I know the full circumstances behind the offer," he said on Tuesday. "I'm just happy I was the next call. Northwestern and my family have a good history (Nagel's older brothers Brett and Aaron both played and graduated from Northwestern) and it's just a great school.
"I sat down and talked it over with my family and it's just the best possible scenario. I just can't pass up a chance to play at Northwestern. I'll get a top-notch education, play close to home in this amazing city, and it's everything I could ask for and more."
It sounds like a wedding that was meant to be.