Home has been anything but sweet for Northwestern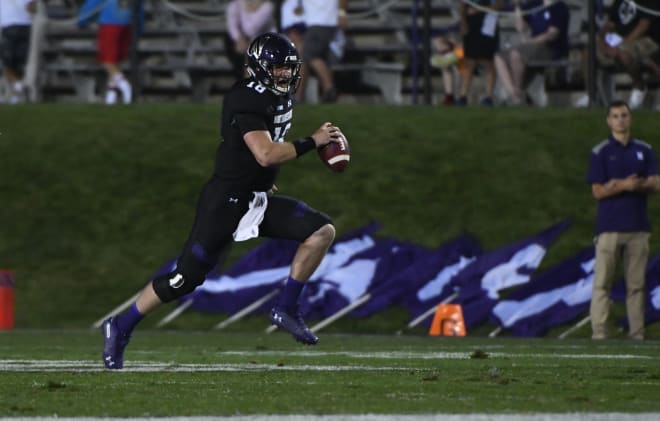 EVANSTON-Home teams have won 60 percent of the last 10,000 games in FBS college football, according to Sports Algorithm Research.
Northwestern will put that statistical trend to the test this year.
Northwestern is 0-3 at Ryan Field this season heading into their home game against Nebraska on Saturday. The Wildcats have lost to Duke, Akron and Michigan on their home turf, with all three of the losses coming after they blew early leads.
So even if they win the remainder of their four home games - games that include matchups with No. 5 Notre Dame and No. 15 Wisconsin - the Wildcats will fall short of that historical benchmark.

The pain of laying a goose egg at home has been dulled by the fact that the Wildcats are unbeaten on the road. They are 2-0 away from Evanston after upsetting No. 20 Michigan State 29-19 in East Lansing last weekend. Their other road win was the season opener at Purdue on Aug. 30.
Defensive end Joe Gaziano doesn't really have an explanation for the home-and-away disparity. He chalks it up to chance.
"It's been weird because you expect to play better at home, in front of your home crowd, but for us that hasn't been the case," the junior said at Monday's press conference. "But I think just kind of the way the dice have rolled this year. But we need to step up for sure in front of our fans and give them something to cheer for. We haven't been able to do that yet.
"For us, it's a matter of being comfortable in our home stadium and protecting our turf," he said. "We know we're capable of it, it's just bringing that performance in our home stadium."
Northwestern does everything it can to keep the players' routines the same, whether they are at home or on the road. They stay in a hotel the night before a home game, just as they would on the road, and they have the same meeting and meal schedule, regardless of the venue.
Head coach Pat Fitzgerald thinks that the students' late arrival may play a role in their Ryan Field blues. Northwestern uses a quarter system, so students didn't start classes this year until Sept. 27. They missed the first two home games and were only in attendance for the Michigan game on Sept. 29.
"It's been weird because you expect to play better at home, in front of your home crowd, but for us that hasn't been the case."
— Defensive end Joe Gaziano
"I definitely think it helps when we have our students. There's no doubt about that. That's not an excuse, it's a reality with our quarter system," he said.
The Wildcats' struggles at home will be magnified this weekend because hosting a Nebraska-Northwestern game seems to be the kiss of death. The home team is just 1-6 in this series that began in 2011, when the Huskers joined the Big Ten. Nebraska is 1-3 and Northwestern is 0-3.
Making that backwards stat even more remarkable is the fact that the one win was a fluke. Nebraska got that lone home win because of a 49-yard Hail Mary from Ron Kellogg III to Jordan Westerkamp on the last play of the game in 2013. It took a prayer for a home team to win a game.
Ask Fitzgerald to explain why the host team has won just once in seven tries and he talks about how close the games have been. When it comes down to a play or two, anything can happen.
He's right. Five of the seven games games between the Huskers and Wildcats have been decided by one score. The matchups have featured a startling upset (in 2011, 3-5 Northwestern knocked off No. 9 Nebraska), an overtime game (2017, Northwestern won in the first OT) and the aforementioned Hail Mary.
"I think most of these games have been awesome," said Fitzgerald. "Now, we haven't won them all. Some sting more. You kinda feel like Tommy Boy (the movie), a mark right here (points to his face).
"But I'll tell you what, since we've played Nebraska, there has been no better fan base to get to know than theirs. It is spectacular."
That's one thing that's been a constant in every game: the impressive presence of Nebraska fans. They fill Memorial Stadium, of course – 364 consecutive sellouts and counting since 1962 – but they've also made up about half of the crowd at Ryan Field, too.
"The games are usually played really clean and I think they usually go down to the wire," added Fitzgerald, "which, for fans, has got to be awesome."
Just not the home fans.