Meet the Class of 2014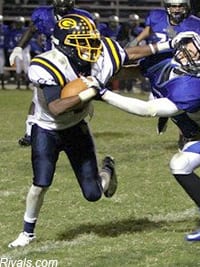 Fitzgerald also took advantage of today's Signing Day to introduce three student-athletes who will join the Wildcats as walk-ons this fall.
"This is always a memorable day for our signees and their families as they get set to embark on the next big phase of their lives as part of the Northwestern Football Family," Fitzgerald said. "In most cases, these are young men who our coaching staff has gotten to know very well over a period of several years. We have the utmost confidence that they have the drive and determination required to thrive at Northwestern academically, athletically and socially. I wish all of our signees the best of luck in wrapping up their successful high school careers and look forward to welcoming them to Chicago's Big Ten Team this summer."
The 2014 class is among the most highly rated in program history, ranked No. 38 nationally by ESPN and boasting a composite player rating of 85.37 according to 247Sports--best in recent memory.
Last fall, Northwestern said goodbye to 14 Wildcats who completed their playing eligibility in 2013, but only five who were regular starters in their senior seasons (two on offense, two on defense, one on special teams).
Northwestern opens the 2014 season on Saturday, Aug. 30, at home against California.
The positional breakdown for this year's class is as follows: defensive linemen (4), linebackers (2), offensive linemen (2), running backs (2), defensive backs (2), wide receivers (1), quarterbacks (1), superbacks (1).
Plano, Texas -- Plano West
Projected Position: Running Back
Englewood, N.J. - Bergen Catholic
Projected Position: Superback
Grand Rapids, Mich. - Grand Rapids Christian
Projected Position: Offensive Line
Toledo, Ohio - Southview
Projected Position: Linebacker
Jacksonville, Ill. - Jacksonville
Projected Position: Offensive Line
Carol Stream, Ill. - Glenbard North
Projected Position: Running Back
Mansfield, Texas - Mansfield Legacy
Projected Position: Safety
Avon Lake, Ohio - Avon Lake
Projected Position: Defensive Line
Memphis, Tenn. - Memphis University School
Projected Position: Defensive End
Verona, N.J. - Bergen Catholic
Projected Position: Linebacker
Wheaton, Ill. - Wheaton North
Projected Position: Quarterback
Gaithersburg, Md. - Gaithersburg
Projected Position: Wide Receiver
Cedar Hill, Texas - Cedar Hill
Projected Position: Defensive Lineman
Bolingbrook, Ill. - Bolingbrook
Projected Position: Cornerback
Lawrence, Kan. - Free State
Projected Position: Defensive Line
Dallas, Texas - St. Mark's School
Projected Position: Running Back
Plainsfield, Ill. - Joliet Catholic
Projected Position: Offensive Line
Medina, Ohio - Medina
Projected Position: Defensive Back