Money, sex appeal and winning bowls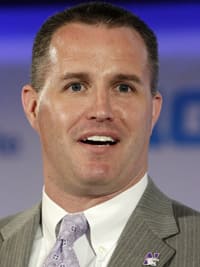 CHICAGO-Money, sex appeal, winning bowl games and the SEC were among the many topics Northwestern head coach
Pat Fitzgerald
discussed during Thursday morning's round table session with reporters at Big Ten Media Days.
Stipends for players: "Like every coach, I want to do what's right for our student-athletes, whatever gives them the best opportunity to have the best experience possible. There are a lot of issues we have that are open for discussion. I look forward to hearing the answers and how to best facilitate them. Getting a job impacts how you work out over the summer and how you study.
"The stipend at our place is already a heck of a lot more than other schools because of the cost of living adjustment. I use that like you wouldn't believe in recruiting. "The bigger issues and discussions have to be with what we do with non-revenue sports. How is it equal, how is it the same opportunity? If you are only going to do it for the revenue sports, I'm not sure how that makes sense. Our volleyball players, softball team and on and on work just as hard as our guys work. They sacrifice as much as our guys sacrifice. I hate to see a tier system set up. I don't think it would be fair to the other athletes and not sure it would be fair to our guys.
"I'd like to be part of those discussions, listen to the thought process from a coaching representation standpoint. I don't have a lot of time to do a lot of surveys, just do what is right for the kids. It's not complicated."
National perception of the Big Ten: "It has a lot to do with sex appeal. I don't think we will ever be a hash-tag league. We were 2-0 against SEC teams last year, didn't play very well in the game up here and knocked off the other in their own backyard, but I don't hear a lot of national media talking about that. It's about the student-athlete (in the Big Ten) and how they develop. The guys I work with in this league, that's the way they coach, the way they teach, the way their teams play and I have a lot of respect for that.
"There are a lot of great athletes and coaches in the SEC, but I think a lot of things get blown out of proportion over one or two weeks (on the schedule). The fanfare of recruiting gets a little overblown.
"Michigan State was two-three plays away from having a really special year. From top to bottom we are one of the more powerful conferences in the country; we are not driven by two or three power teams at the top. Our statement as a league is our strength from top to bottom, not just one or two.
"But if you want to change perception and the way people talk about you, you have to do it on the field. We know a little bit about that at Northwestern. We're never going to win signing day. We're never going to win sex appeal because our fan base isn't clicking enough on dot.com sites, our guys actually have jobs and they're working during the day. You can't worry about the stuff you can't control.
"Going to the playoffs next year, I think sex appeal no longer figures into playing for the national championship. You have to earn it on the playing field. Hopefully, strength of schedule will be a big factor in getting a seat at the table.
"I'm not sure I will ever control the sex appeal of Northwestern football. Everyone over the age of 40 has an opinion and I can't control that. Anyone under the age of 40 only knows us as a winner, so that change will take time. A lot of the polls are sex appeal. Preseason polls are sex appeal.''
Ending the SEC dominance in the national championship game: "No. 1, you have to control your opportunities in the regular season. You've got to be able to put yourself in position to improve your team and then win football games. In most conferences that means win, survive and move on. If you get to that (championship) game, you had better execute in the moment, you had better play physical football and you better play for 60 minutes.
"I watched the first half of the game last year with coach (Gary) Barnett and that was pure unadulterated old school football - execution in blocking, getting off blocks, execute in the kicking game and don't beat yourself. That's our blueprint and it probably isn't much different than a lot of other schools, but the reason why they (SEC) have had the run they've had is their young men have executed, which means the coach has done a terrific job of getting them prepared fundamentally. Last year's national championship game was football in its purest form being executed at a very high level.
Winning a bowl game: "That was the last negative hurdle we had to get over. There was a springboard of confidence it gave our entire football program - current players, our fan base, everyone on campus and all of our alumni throughout the country.
"What has been fun for me is seeing those guys who have been here before me putting on the purple and white. There were some really tough times '72 through '94 and to have the amount of dialogue with that group of men has been really special. We had to overcome some of those things and work really hard as a program to re-recruit guys whose experiences weren't like those we are experiencing today. We don't lose sight of those who have been here before us, so the pride from that group of men has been the most fun. There has been an attitude shift from this group of former players and they understand they were part of the building blocks.
"On the recruiting side, the momentum has been unbelievable. Beating the SEC twice last year, winning a bowl game in SEC country, playing the way we have on the Big Ten Network and ESPN were big. The big four in our league always have had national exposure. For the Northwesterns of the world, since the Big Ten Network came along, 17-year-old kids now know Northwestern isn't in Seattle, like one young man in Houston thought when I first started recruiting. We're now a brand that goes across the country.
"The Stanfords and Notre Dames of the academic world have had that cache for a number of years. We're coming, but we're not there yet. We're just getting started. We're in the first lap of that race right now, but we've got miles to go to be where we want to be."
Rankings: "I wouldn't rank anyone until you have played three or four conference games. Then you know the teams are legit. When we went to the Rose Bowl, we were unranked and then got up to No. 3 in the country. I don't think that could happen today. With the current structure, I don't think you have a chance of that happening.
"I'm not a big fan of preseason rankings. Our team is totally different from year to year. To say because we won the Gator Bowl we are not this, that or the other. I don't buy that.
"There's so much that goes into that offseason development - who steps up as new leaders and who fills the holes that have been created, the injuries in the offseason, the new chemistry and how it overcomes adversity and sustains success, not becoming complacent. I don't know how you can forecast that without going through practices and fall camps.
"If the only weekend that counts is bowl weekend, then it's a fair statement to say the SEC has separated itself from the rest. We've gone toe to toe and are not afraid to play that league. We had another game scheduled to play against that league this year and that team decided not to play us. I have a lot of respect for that league.
"A lot of it (rankings) has to do with sex appeal and the 24-hour news cycle. A lot of those schools are the only show in town, let alone the only show in that state. Big Ten country is a little bit different. I think a lot of the (SEC) propaganda is a lot of hot air. Let's roll the ball out and play. As a coach, you really don't pay a lot of attention to rankings."
Next step: "First and foremost, we have to add competitive depth that will allow our team to continue to raise the bar in our practice structure. I'm a firm believer in improvement through preparation. We have to continue to improve fundamentally and the coaching staff has to be on the cutting edge of teaching techniques and playing to our players' strengths.
"When adversity strikes, we have to be able to handle it. Adversity comes in a number of ways - guys getting hurt, losing a game. It's easier handling that (losing) than when you have success because it's human nature for guys tend to get complacent with success. We continually challenge our guys to get better than they think they are.''
NU tradition for jersey No. 1: "We started a new tradition and in a few days we will name the player who will be wearing jersey No. 1. It embodies investment in our program, the guy who represents that the best. The last couple of years Bo Cisek and the No. 1 jersey kind of took on a life of its own. I don't know why, maybe it was his physique or his personality, but he's going to come back and present that number."
Fragile egos: "I'm not a big fragile ego guy and that all goes back to recruiting. I want players who have a real solid core of humility about them and understand it's about the team and not about them.
"We don't have a lot of guys with fragile egos in our building. We've got guys through the recruiting process who embrace what this game is all about. Every freshman has a fragile ego just in general because the glorification of a 15-year-old kid is now at an all-time high. It's not fair to those kids, but you have to teach them what it means to fail. These kids have been jetted across the country and people have been telling them how good they are; that's not very good for their ego. They're going to get to college and they're going to get their lips knocked off. They're going to fail and they're not going to know how to deal with that.
"We're spending more time coaching the kids through that than we ever had before. They get to college during the summer and a strength coach is sticking their boot up their hiney, and they've never had that happen before.
"I'm brutally honest with our prospects. I don't sit in their living room anymore; they sit in my office.
"I'm not sure it's good to offer a scholarship before the senior year because the senior year is very important. I have 13 players who haven't played their senior year that I've told, 'you don't play for us, you play for your coach, but if I find out in any shape or form you're not busting your ass and giving it your all to be a great leader and a great teammate, you and I are not going to be on very good terms, so understand what commitment means and also understand your No. 1 commitment is to your grades, who you are socially and the kind of teammate you are.
"When a guy comes into my office, it's not I love you. The minute I start doing that I'm out of here. I'm not doing that.
"If they don't bust their ass, the scholarship isn't off the table, but I'm going to find a way to make their life uncomfortable. I'll do everything I can with their parents to make sure their attitude and actions are acceptable.
"I've talked to several of my colleagues and they've told me how once some of these guys accept a scholarship in their junior year, they suddenly start forgetting to do the little things like running through a line. We as a coaching body through the NCAA have to get a grasp on this and shift the needle back to what is important and that is what the kids do in (high) school, being great teammates and continuing to develop. Kids are going to have to develop more in high school than they have ever before because the NCAA is going to start taking practice hours away from us.''