No winners, losers in QB battle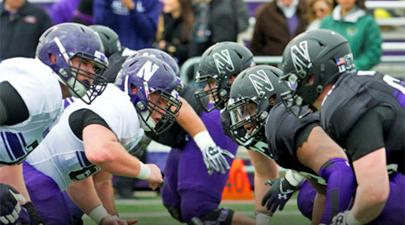 EVANSTON-When
Clayton Thorson
trotted out to take the first rep with the first-team offense during Saturday's open practice, a murmur immediately rippled through the dozens of people assembled on the sideline at Ryan Field.
The question on their mind: Does this mean that Thorson has the upper hand in the three-way competition for the starting quarterback job with
Matt Alviti
and
Zack Oliver
? The three had been sharing snaps all spring, but just about everyone was wondering if the 6-foot-4 redshirt freshman had gained some sort of edge over his fellow QBs.
Head coach
Pat Fitzgerald
dumped a wet blanket on that theory immediately after the two-hour workout in front of a few hundred fans on a sunny, crisp and blustery morning.
"Today was his day to start first," he said simply. The three had switched off the lead role all spring, and that sequence will continue until the last practice, next Saturday.
In other words, the quarterback battle is still up for grabs, as are many of the other spots on Fitzgerald's injury-riddled team.
Fitzgerald wasn't about to disclose anything about the three-QB race that is the preoccupation of spring. On this Saturday, all three of them did some good things and some bad things, and no one separated himself from the pack.
"I think today was pretty similar to what we've seen all spring," he said. "We've seen great plays by the quarterbacks, and we've seen some missed reads and some mistakes. I think it's a work in progress, but I think all three are doing a good job."
His primary criterion for deciding on the winner remains a simple one: "The ability to run down the field and score points is going to be the ultimate deciding factor," he said.
On this day, then, Thorson was the one that met that standard. He hit running back
Auston Anderson
on a post pattern for a touchdown, the only true scoring drive of the afternoon. Thorson called that the highlight of his day.
"It felt good to get a score in there," he said. "You know if you get Auston Anderson in space, he's going to score a lot."
Fitzgerald likes that practices are closed to the media this year, if only to protect his three QBs from the daily scrutiny reporters would have generated.
"If I had practice open every day, you guys would over-analyze," he said.
The three players themselves didn't reveal much more than their head coach. They are not sure how much mobility will play a role in the battle, or whether a two-quarterback system could be a possibility. They all also talked about how close they are as friends.
"We help each other out," said Thorson. "I have a fun time with all these guys."
Thorson said he's focused less on winning the competition than he is trying to get the most out of every one of the one-third of the reps he is getting this spring. He didn't play a down last fall as a true freshman and spent most practices running the opponent's plays while leading the scout team offense.
While he is generally regarded as the best pure passer of the three, Thorson says he tries not to think in those terms.
"We can all run a little bit, and we can all throw the ball," he said.
Fitzgerald says that Alviti, who is regarded as the best runner of the trio, is finally letting the game come to him.
"If not anything else, he's overtrained, overworked (in the past)," said Fitzgerald. "That's a good problem, but if you do that, you can't just relax and play. He's starting to relay and play, and I think that shows confidence in the system."
Alviti agrees, citing the chemistry he built over the winter with running backs and quarterbacks.
"Coming up on my third year being here, I'm getting more comfortable with the system, getting better at the system, and knowing what I have to do," he said. "I'm slowing things down and taking a deep breath."
Oliver, the elder statesman of the bunch, seems the most relaxed of the three, at least in front of the media. He sneaked to the back of the media throng and asked Thorson a question about his touchdown pass. The fifth-year senior has, by far, the most experience, having thrown 61 passes in his career, 52 more than Alviti and 61 more than Thorson. Yet he wasn't really sure how much of an advantage that gives him over his peers.
"I'd like to think so, but I'm just coming in every day and working, just like everyone else."
Cat scratches
Wide receiver
Christian Jones
watched the practice on crutches after having knee injury to repair torn cartilage in his already repaired left knee. The senior tore the ACL in the same knee last August and said that the surgery had created a small hole in his cartilage. When he started running this spring (he was barred from contact but taking reps), he eventually tore a hole in it, necessitating another procedure. He said that he would start running again in July and expects to be back in August for the start of camp.
Running back
Justin Jackson
said that the arthroscopic procedure to shave the meniscus on his left knee was a minor one and that he could play again next week if they had a game. He said that he injured it during practice but continued to play on it, finishing out the season. Doctors initially thought he had a patella problem, but when swelling persisted they did an MRI and he had the surgery about 10 days later. He said that he could have played on it, likening it more to discomfort than an injury. "It's like a pebble in your shoe," he said.
Wide receivers suffered several obvious drops during the scrimmage, a continuation of their spotty play last season. Fitzgerald says that the position remains a work in progress and injuries are a big reason. "There's no way we can make an evaluation of the entire group, even by this time next week," he said.
The highlight of the session may have been the punt drill, when linemen, non-skill players and even coaches got a shot to field a punt out of a machine. This proved to be a daunting task with winds whipping the flags and sun shining directly in their eyes. Defensive end
Dean Lowry
and cornerback
Troy Sheppard
were the only players who managed to catch one, as even Fitzgerald, linebackers coach
Randy Bates
, wide receivers coach
Dennis Springer
and defensive backs coach
Jerry Brown
failed. But walkon linebacker Anthony Pierce-Adams got the biggest crowd reaction of the day when the punt bounced off his helmet. Players around him fell to the ground in laughter as if they had been shot, and the crowd went wild. The slow-motion replays on the video board were worthy of a
SportsCenter
Not Top 10 moment.
Former Northwestern wide receiver Tony Jones and quarterback Trevor Siemian will hold a pro day on Thursday for NFL scouts at NU. Both were too injured to take part in last month's pro day for the other Wildcat prospects. Jones has recovered from the shoulder and knee injuries that hampered him last season but suffered a sprained ankle last month. Siemian is still recovering from the ACL tear he suffered against Purdue last November.