QB commit Aidan Atkinson focused on future at Northwestern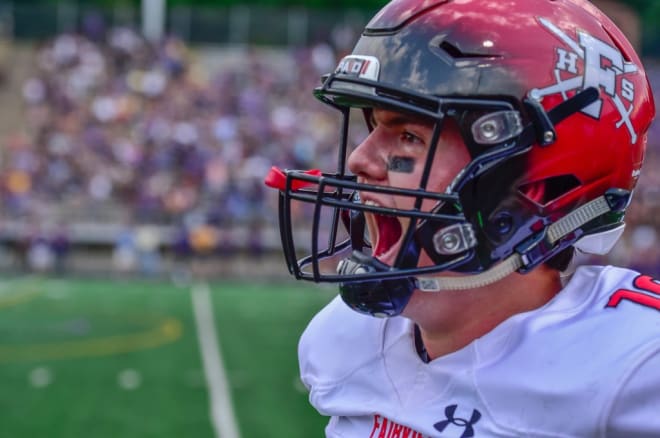 Very few, if any, Wildcat fans in the announced crowd of 47,130 at Ryan Field last Friday saw Northwestern's 52-3 loss to Ohio State the way Aidan Atkinson did.
While most fans saw a brutal, embarrassing performance, and the lowest point in what has been a season full of lows, the three-star Northwestern quarterback commit looked at the drubbing as an opportunity. An opportunity not only for playing time -- he is a quarterback, after all, and Northwestern generated just 42 passing yards and three points in four quarters against the Buckeyes. But also for redemption.
"I definitely look at that as an opportunity," said Atkinson, who, it could be argued, picked the wrong weekend to take an unofficial visit. "It's added motivation.
"When people are criticizing the team you're going to play for next year, it's an opportunity to do something great. When people don't expect you go do anything, those are some of the best stories in sports history."
Atkinson said that, despite what happened between the white lines on Friday night, he enjoyed himself on his visit. He got to spend time with classmate Garnett Hollis, as well as head coach Pat Fitzgerald and offensive coordinator Mick McCall.
"It was great to see Coach Fitz and Coach McCall again," he said. "(I) love talking football with the two of them, so despite the outcome of the game I still really enjoyed being in Evanston again."
Atkinson doesn't enjoy seeing his future teammates struggle. As a quarterback, he has watched the Wildcat offense flounder all season, especially in the passing game. Northwestern ranks 130th out of 130 teams in passing efficiency and 127th in total offense, and the Wildcats are scoring just 12.5 points per game.
That's a recipe for a long, tough season. But Atkinson thinks they may be closer to success than people think.
"It just seems like they're having a couple crucial mistakes every game," he said. He knows that Fitzgerald and McCall are trying to correct those fixable problems, and he is confident that they eventually will.
Atkinson's senior year at Boulder (Colo.) Fairview is going much better than the Wildcats' season. The Knights are 7-1 with two games remaining.
Atkinson is dwarfing Northwestern's passing numbers. He has completed 63.8% of his passes for 2,709 yards, with 34 TDs and 11 INTs. He is averaging 338.6 passing yards and more than four touchdowns per game.

But it hasn't been one big ticker-tape parade for Atkinson. He had a nightmare outing in a 50-7 loss to Arvada Ralston Valley in Week 2. In that game, Atkinson completed less than 50% of his passes and threw six interceptions, more than half of his total for the season. He said that there were some tipped balls, but he took responsibility for "sailing" a few, as well.
Ever the optimist, Atkinson put a positive spin on that difficult night. "It's great to have it happen earlier in the year," he said, pointing out that he could have happened, say, in the playoffs, which would have made it much worse.
Plus, he has been able to use it to fuel him throughout the season.
"You're never as good as you need to be," he said. "Throwing six interceptions is unacceptable. I'll always have that game in the back of my mind and, week-in and week-out, it will help me strive to get better."
Atkinson knows that he will have to continue to get better to make the transition to college football. He is 6-foot-3 and up to 218 pounds, about 10 pounds heavier than he was last year and 18 pounds heavier than his previous listed weight in the Rivals database.
He knows that he will have to get bigger and stronger so that he can "take hits and shots and not have to worry about injury."
But he thinks the biggest change when he plays in the Big Ten will be what happens above, rather than below, his neck. While he's used to playing in high school with maybe another one or two other FBS-level players on the field with him at any give time, he knows that there will be 21 other talented players on the field in college.
"The biggest thing when you go up a level, whether it's middle school to high school or high school to college, is that the game is much faster. So your reaction time and decision making has to be much faster.
"I have to learn when not to force things, what I can and can't throw... I've got to react to the game like a normal college quarterback would."
As the offensive coordinator, McCall is held responsible by many fans for Northwestern's struggle to score points this season -- and the last few, as well. He has become a scapegoat on message boards and in the Northwestern Twitterverse, and it's safe to assume that the 12th-year assistant coach wouldn't win many popularity contests right now.
Atkinson, though, has a strong personal relationship with McCall. They are both "Colorado guys," says Atkinson, so they have plenty to talk about. Atkinson says that the 12th-year assistant coach is "absolutely" one of the reasons he chose to commit to Northwestern almost a year ago, last Nov. 11.
"He has been there a long time and he really knows what he's talking about," says Atkinson. "He's a guy that has produced a lot of NFL talent. I know that he's not going anywhere anytime soon."
Northwestern is currently in a tailspin, having lost four straight games. Atkinson, though, is focused on the future and building chemistry with the 16 fellow members of his Class of 2020.
In a sign of his intelligence, Atkinson came into Evanston last summer for a barbecue to meet the three offensive linemen in the class who will be protecting him in the pocket for the next four or five years: Josh Preibe, Peter Skoronski and Ben Wrather. He is getting to know others through the group chat that they all share, and he is coming back to NU for his official visit on Dec. 13-15, when he will meet more of them.
The future, he thinks, is bright, no matter how dark things are right now.
"I'm really excited about the group of guys we have coming in," he said.
Help, it seems, is on the way.