The Take: Northwestern vs. Nebraska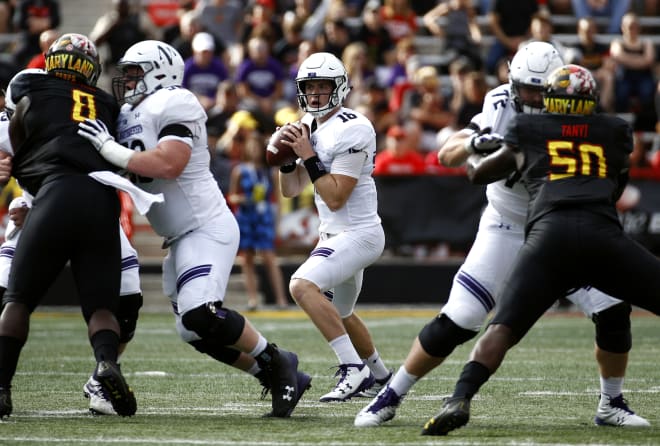 What a strange series Northwestern vs. Nebraska has been.
The visiting team is 5-1 in the six games these two teams have played since the Huskers joined the Big Ten in 2011. Northwestern handed the Huskers their first Big Ten loss at Memorial Stadium with a stunning upset that very first year. Northwestern is somehow 0-3 in Evanston against the Huskers but 2-1 in Lincoln and would be 3-0 if not for that 2013 Hail…well, you all saw what happened.
There have been some barnburners mixed in there, too. Four of the six games were decided by a field goal or less.
Will Northwestern beat the Huskers on the road for its fourth straight win? Or will Nebraska begin to turn its season around with its first win over a Power Five team with a winning record?
Here are some key questions to be answered on Saturday and our fearless prediction on the outcome.
Will Justin Jackson run for 100 yards?
This could be Northwestern's chance to resurrect its ground game. Nebraska has struggled against the run all season and ranks 12th in the Big Ten, allowing 170.0 yards per game and 4.7 yards per rush. Several teams have gashed Nebraska's defense for staggering numbers. In descending order, Wisconsin ran for 353 yards (!), Ohio State 279 and Oregon 201. Even Purdue hit them up for 199 last week.
Jackson, who has 644 rushing yards on the year, has broken 100 yards just three times all season. Northwestern's offensive line has been better in pass protection in recent weeks, but it should be able to get a push against the Huskers front seven in the run game. If the Wildcats can move the ball on the ground and stay balanced, they could return to the kind of potency they showed against Maryland.
Northwestern is 19-4 when Jackson runs for 100 yards. If he gets to that mark on Saturday, the Wildcats should get out of Lincoln with the W.
Will Tanner Lee burn the Wildcats?
The biggest concern for Northwestern has to be Nebraska's passing game and big-play potential. While transfer quarterback Lee got off to a horrible start this season, throwing a combined nine interceptions in a three-game span, he has rebounded to become the second-leading passer in the Big Ten, averaging 267.5 yards per game, with 15 touchdowns and 10 interceptions. He has thrown only one pick over the last four games and is coming off of a career-best 431-yard performance against Purdue last week.
Northwestern, meanwhile, ranks 119th in the nation in passing yards allowed, 270.8 per game. Last week, Brian Lewerke, threw for a career-best 445 yards against the Wildcats. Yes, it took three overtimes to do it and some of those yards were due to the fact that the Spartans – like most teams – couldn't run against Northwestern, but Lee is a much more polished passer than Lewerke.
Nebraska will not run the ball against a Northwestern defense that has kept five of its last six opponents to less than 100 rushing yards. But Lee has some speedy weapons in De'Mornay Pierson-El, Stanley Morgan Jr. and JD Spielman who could get loose for a big play or two that could change the complexion of the game.
One thing about Lee, however, is that he is not a mobile quarterback. The QBs that have done the most damage against NU have been dual threats, like Lewerke and Duke's Daniel Jones.
Is this a trap game for Northwestern?
Northwestern could bet set up to take a tumble on Saturday. The Wildcats are feeling confident and riding a three-game winning streak. They are coming off of two hard-fought overtime wins over Iowa and Michigan State that had to tax them both physically and emotionally. They have dug themselves out of a 2-3 (0-2 Big Ten) hole and it's easy to see them winning the rest of their games.
Nebraska, on the other hand, is coming off of the kind of win that could turn a season around. The Huskers trailed by 12 points in the fourth quarter at Purdue but rallied for a 25-24 win, with Lee throwing the game-winning touchdown pass to Morgan with just 12 seconds left. Add the fact that they are no doubt playing to save their coach's job, and it's easy to depict Nebraska as the cornered animal that feels like it has to fight its way out.
The skinny
This matchup seems to be set up pretty nicely for Northwestern.
Nebraska has a weak running game and rushing defense is Northwestern's strength. The Huskers have a quarterback who can sling the ball around in Lee, but they lost two offensive linemen to injury last week so Northwestern's front could be able to put pressure on him.
Offensively, Northwestern has struggled running the football but face a defense that has had monumental problems stopping the run. The Wildcats are a disappointing -4 in turnover margin but haven't turned the ball over in two weeks.
Lee will make some plays to keep the game close for a while, but Northwestern will run the ball and Nebraska won't. That will be the difference as the Wildcats pound their way to another beautifully ugly win.
The pick: Northwestern 24 Nebraska 20

Season: 7-1 (seriously)