Whillock calls it a career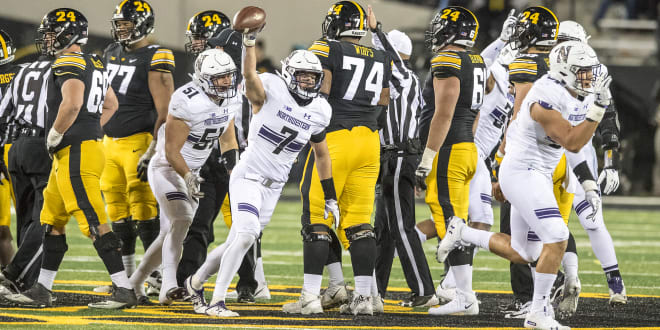 In August, Travis Whillock decided to opt out of the 2020 season. Now, he is opting out of the rest of his career.
The redshirt senior safety is retiring from football and will not return to Northwestern for a final season. He hasn't posted his decision anywhere on social media, so this will serve as his announcement of sorts.
And that's just fine with him.
"(Making an announcement) is not my style," he said. "I don't want to put any more attention on myself."
Whillock's decision wasn't an easy one, but he says that his body told him it was time. He had two wrist surgeries in the last year – one shortly after last season ended, and another one in the spring.
This fall, instead of playing football in Evanston, Whillock was back home in Katy, Texas, taking online classes at Northwestern. It was Whillock's first fall without football since he was six years old.
With all of that extra time, Whillock had a chance to reflect on his career. It didn't take him long to figure out that hanging up his cleats was the best thing for him to do.
"Ultimately, I came to the conclusion that it was time to transition to the next stage of my life," he said. "It was bittersweet, for sure, because of all that the game has given me. But I know it's the right decision."
Whillock wishes his last season wasn't Northwestern's 3-9 disaster in 2019. But at least he won his final game when the Wildcats beat Illinois for their only Big Ten win of the season.
It was in 2016 that Whillock first arrived at Northwestern with teammate and childhood friend Paddy Fisher. They were both fresh off of winning the Texas state championship in 2015 for Katy High School.
Whillock redshirted that first year, and a hamstring injury limited him to just one game in 2017. He said he was thankful that coaches stuck with him through those injury-marred first two seasons and eventually gave him an opportunity to play.
His coaches are thankful, too.
Whillock had a breakout performance against Notre Dame in 2018, registering 10 tackles. He made his first start the following week against Iowa and recovered a fumble in the fourth quarter as the Wildcats clinched the Big Ten West title. Whillock recovered another loose ball in NU's Big Ten championship game loss to Ohio State.
In 2019, Whillock started 11 of 12 games, forming a formidable safety tandem with his partner, J.R. Pace. Whillock made honorable mention All-Big Ten that season as he made 78 tackles, the most on the team for a non-linebacker.
A big hitter with a nose for the ball, Whillock finished his career at Northwestern with 135 tackles, six TFL and two sacks, to go along with five passes defensed, one forced fumble and four fumble recoveries.
You might think it would be difficult for Whillock to sit at home and watch on TV while his old team turned things around this season. The Wildcats went 7-2, captured another Big Ten West division title and then won the VRBO Citrus Bowl over Auburn.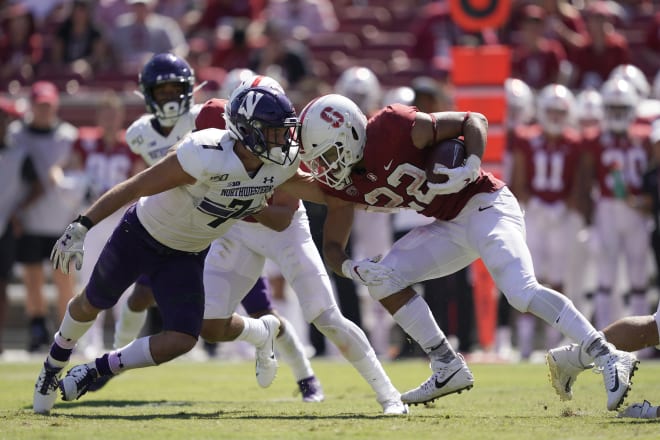 But nothing could be further from the truth. Whillock says he has no second thoughts about deciding in September to sit out the 2020 season because of COVID-19. Besides, he kept in touch with several players throughout the season and just rooted them on every week from Texas.
"It wasn't tough at all," said Whillock. "I missed the competition, from that aspect. But I knew that this was the best decision for me. It was in my best interests, so there's no regrets from me. I felt joy throughout the year for my teammates. I was their biggest fan this year."
Whillock says that he wasn't surprised by the Wildcats' success this season, either. They reached as high as eighth in the College Football Playoff poll and finished 10th in the final AP poll.
"With all the work they put in, I knew it was just a matter of time," he said.
The irony is that Whillock's decision to sit out this season opened the door for Brandon Joseph to start at safety – and Joseph turned into a star. No one in the country picked off more passes than the redshirt freshman, who wound up with six. And, in another ironic twist, Joseph comes from College Station, Texas, just an hour or so away from Katy. They're practically neighbors.
Whillock didn't think that Joseph would become an impact player so early in his career, but he could see the youngster's talent every day in practice.
"I knew he was going to be a great player. Did I know he was going to be a first-team All-America in his first year? Maybe not," he said. "But even when he was on the scout team, he was always around the ball. He had six interceptions, and that's something that makes him great. It's going to be so awesome to watch him in the future."
More than the game, Whillock says it's the relationship with his teammates that he'll miss the most. Whillock's strongest relationship is with Fisher, who has been his best friend since he was "six or seven years old."
"It was an adjustment," he said about not playing and being around Fisher this fall. "We've spent a lot of time together over the years, so it was a little tough. But I'm excited for him and can't wait to see what he can do at the next level."
At this point, Whillock isn't sure what he's going to do next. He has already received his bachelor's degree from Northwestern in Learning & Organizational Change. He's now working on his Master's in Sports Management, which he is scheduled to earn in June.
He's thinking about a couple different things, career-wise. One is establishing a facility to help "mentor and develop young athletes in their sport, but also as men in their community." He also recognizes that he's a very relationship-driven person, so he is also contemplating a potential career as a sports agent.
But those are decisions he will make down the road. Right now, he is focused on finishing school and enjoying time with his family.
Ask Whillock for his best memory as a Wildcat and he struggles to come up with just one.
"There were a lot of them," he said. "I'm so thankful for everything that Northwestern has given me."
He finally settles on the Iowa game back in 2018, his first start as a Wildcat.
"It meant a lot to me personally. It was my first game starting that year. I withstood almost two years of injuries, and I was part of clinching the division after so much time away from the game. I got to share that experience with the guys."
That's what Whillock keeps coming back to: the camaraderie and brotherhood among his teammates. Competing, making big plays and hearing the roar of the crowd are exciting parts of the game. But Whillock says that it's the players that he'll miss the most.
"Just being in the locker room, those conversations with guys, being around them all the time," he said. "You just don't get that anywhere else."