Best in 25 Years Series: Strief is Northwestern's top tackle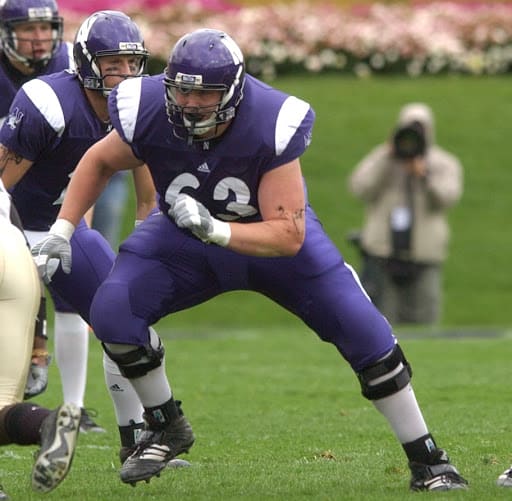 It's been 25 years since Northwestern's magical run to the Rose Bowl in 1995 revitalized the program. WildcatReport is celebrating that Silver Anniversary by finding out who's been the best player during that span at each position.
BEST IN 25 YEARS SERIES: QB Dan Persa l RB Justin Jackson l WR D'Wayne Bates l TE Drake Dunsmore
As he often did on the field, Zach Strief pancaked his competition.
The All-American and Wildcat Hall of Famer received a whopping 75% of the vote to claim the title of the best Northwestern tackle over the last 25 years. It wasn't even close.
Trai Essex, who, like Strief, enjoyed a long NFL career after leaving Evanston, finished as the runner-up with 12.5% of the votes. Current left tackle Rashawn Slater was next with 8.3%, while Al Netter and Brian Kardos wound up fourth and fifth, respectively.
How dominant was Strief's victory? Only D'Wayne Bates, who got 85.7% of the votes for best wide receiver, received a larger share of the tally than Strief in the Best in 25 Years Series so far.
Strief was a Football Writers Association of America All-America pick as a senior in 2005, so his name adorns the facing of the second deck on the West side of Ryan Field. He was also the only two-time, second-team All-Big Ten pick among the choices.
Slater deserves a nod, however, because his career isn't over yet. As Essex said in a tweet, "He will be the best of us all."
Strief made 40 straight starts over his career and served as Brett Basanez personal bodyguard as the star quarterback became one of just five players in Big Ten history to throw for more than 10,000 yards during his career. Strief also blocked for three different 1,000-yard rushers at Northwestern: Jason Wright in 2002 and 2003, Noah Herron in 2004 and Tyrell Sutton in 2005.
Strief was drafted in the seventh round of the 2006 NFL Draft and played his entire 12-year career for the New Orleans Saints, winning a Super Bowl ring in 2010. He became the starting right tackle for the Saints in 2011, was a team captain from 2012-17 and was a Pro Bowl alternate in 2013. He retired from the NFL in 2018.
Strief was inducted into the Northwestern Hall of Fame that same year and is now the play-by-play voice of the Saints on radio broadcasts.
Highlight Reel