Four-star Ohio DE Michael Kilbane is Northwestern's fourth Sunday commit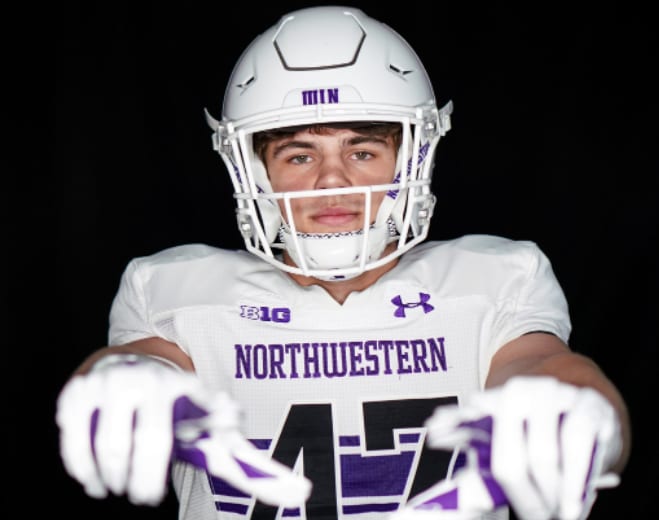 It's fitting that Michael Kilbane, the first four-star of Northwestern's Class of 2023, was the Wildcats' fourth commitment of the day.
The highly ranked defensive end from Ohio state champion Lakewood St. Edward committed to Northwestern on Sunday night, just after his official visit, to become the fourth new Wildcat on what will be a day to remember for the program.
Kilbane actually committed to the Wildcats on Friday, shortly after arriving in Evanston. But he didn't announce it until Sunday night, following in the footsteps of defensive tackle Tyler Gant, offensive lineman Jordan Knox and defensive tackle Dylan Roberts, who all committed earlier in the day.
Kilbane said that he hadn't completely made up his mind when he arrived for his official visit, but, he says, "I got that feeling when I was there."
He didn't waste any time, committing to head coach Pat Fitzgerald during a one-on-one meeting on Day 1.
"I feel like I looked at all the stuff NU had to offer regarding Big Ten football, top 10 education, connections, coaching stability and I was pretty confident," Kilbane said via a text message. "Then I had the conversations with a lot of people regarding their experience and was just made even more confident, so I pulled the trigger on it."
Kilbane became the 10th member of Northwestern's Class of 2023, its first four-star prospect and its third defensive lineman.
Kilbane, a 6-foot-4, 240-pounder, was on campus with 17 other official visitors. He was one of four four-star defensive ends in attendance, so the Wildcats wouldn't mind landing at least one more of them in the coming days.
A highly sought after prospect, Kilbane claimed 30 scholarship offers. He had scheduled official visits to Cincinnati and West Virginia in June but won't be making those trips any longer.
Kilbane visited Northwestern for the first time in April, an experience that set the Wildcats up for success on his second trip to Evanston.
"The feel that I got at Northwestern was amazing," Kilbane told WildcatReport last month. "It felt like a real family there."
In addition to good size and quickness off the ball, Kilbane also has a high-revving motor. Last season, he had 104 tackles and 16.5 sacks, impressive numbers for a defensive lineman in Ohio's top division.
Kilbane's play helped lead the Eagles to a 15-1 record and a victory over Springfield in the state title game last December.
St. Edward has been a productive pipeline for Northwestern over the years. Defensive end Deonte Gibson, defensive tackle Greg Kuhar and offensive guard/tackle Geoff Mogus are all former Eagles who played for the Wildcats.
Northwestern's 2023 class is now ranked 11th in the nation by Rivals.