Snap Judgments: Thomas thinks Hilinski is the future at QB
Jared Thomas, a former Northwestern All-Big Ten center and captain, analyzes Wildcat football for WildcatReport.
Northwestern's 35-7 loss to Wisconsin on Saturday eliminated the Wildcats from bowl contention and ensured that they would not achieve any of the program's goals this season.
The three goals that are etched in glass in the trophy case at the Walter Athletic Center are: Win the West Division, Win the Big Ten, Win Our Bowl Game. The first two fell by the wayside long ago, and the latest thumping -- the Wildcats' fourth in a row -- meant that they wouldn't even get a shot at the last one.
Now that a bowl is off the table, the program's focus can move to 2022 and beyond. Former Wildcat center and captain Jared Thomas thinks that we will see a lot of new faces on the field for the Wildcats during these final two games.
"These last games will be about getting guys some time for next season, getting young guys game reps to see what they can do," he said. "They're in a no-lose situation now because there's not a lot at stake."
That may be the silver lining here. Northwestern is getting a two-game head start on next season. Lord knows, they could use any advantage they can get.
The first priority for the remainder of the season is finding an answer at the quarterback position. Thomas, unlike many other fans and observers, believes the answer is already on the roster.
"I think Ryan Hilinski is our starter, and should be our starter moving forward," he said.
Thomas doesn't support Hilinski just because he has two years of eligibility remaining while starter Andrew Marty is a fifth-year senior who isn't coming back. He also thinks the transfer from South Carolina has the skills to be QB1 for the Wildcats in the coming years.
"He can be a Big Ten quarterback," he said. "He just hasn't had enough time in the system."
It's clear to Thomas that Marty's time as the starter should be over. He has thrown six interceptions in the last two games and has proven to be a little too reckless with the football.
Thomas understands why coaches inserted Marty against Minnesota and let him start the last two games against Iowa and Wisconsin. They were fighting to get three more wins and become bowl-eligible. But now that the bowl window has been closed, it's time to pick a starter once and for all.
"They need to name (Hilinski) the starter and ride with him through thick and thin," he said.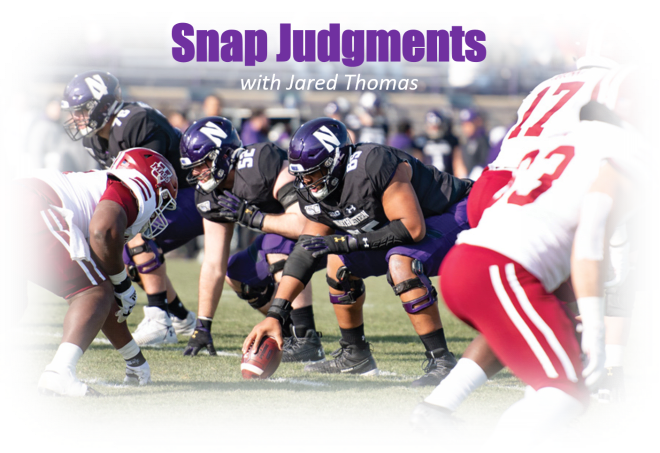 Hilinski has been up-and-down this season, appearing in seven games with five starts. He has completed 52.3% of his passes for 789 yards. He has been better with ball security than Marty; even with the pick he threw late in the game after coming on in relief of Marty against Wisconsin, he has a 3:2 TD-to-INT ratio on the season.
The redshirt sophomore's best games this year came against Nebraska and Rutgers, when he threw for a combined 523 yards and three TDs. But he was ineffective against Michigan and, after a horrendous beginning against Minnesota (1-for-6 for 5 yards passing), he was pulled for Marty.
While Hilinski hasn't exactly been impressive, his performance reminds Thomas of Clayton Thorson, his old quarterback from his playing days. Thomas points out that NU's all-time passing leader had a similar, inconsistent first year as a starter in 2015, when he was a redshirt freshman. But coaches backed him as the starter from the outset.
"They said that he is going to be our starter moving forward, and we never questioned who our starting quarterback was going to be be after that," said Thomas.
He hopes that coaches do the same thing with Hilinski now.
"(Coaches) need to eliminate the gray area at the quarterback position," he said. "He shouldn't have to be worried about his job from game-to-game, series-to-series or play-to-play. He should be worried about getting his team moving in the right direction."
Thomas thinks that knowing he's the starter and that the staff will coach him through any "growing pains" will have a positive effect on Hilinski's play. So will a full offseason getting immersed in offensive coordinator Mike Bajakian's system, watching film, going to meetings and building relationships with his receivers and teammates.
Hilinski only arrived at NU last April as a transfer and didn't get a full spring or starter's reps in fall camp.
"He got to campus late and got the starting job unexpectedly (after Hunter Johnson was pulled and Maty was hurt against Duke)," he said. "I never felt like he was super-comfortable."
There are many who think that Northwestern will look to the transfer portal for help at quarterback after the season, but Thomas doesn't like that idea, either.
"There are only so many Peyton Ramseys floating around in the portal," said Thomas.
While Ramsey was a tremendous addition who led the Wildcats to the Big Ten West tile in 2020, Johnson was also a transfer just two years before who didn't work out. It's a risky proposition.
"At some point, you need to stick with what you've got," said Thomas. "I like our chances with Hilinski."
Jared Thomas started 30 games for Northwestern from 2016-20, including the last 26 in a row at center. He was a member of the 2018 Big Ten West championship team and an All-Big Ten honorable mention selection and team captain in 2019. He now plays for the Massachusetts Pirates, who just won the 2021 Indoor Football League championship.