Best in 25 Years Series: Rice is Northwestern's top defensive tackle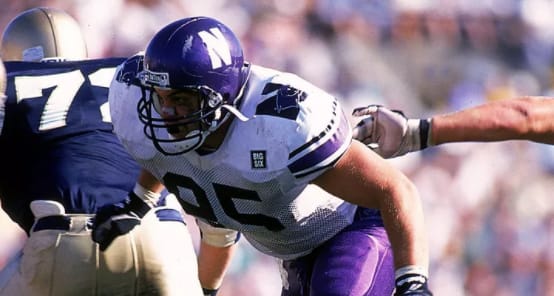 When Matt Rice arrived in Evanston in 1993, he was a 240-pound linebacker from Middleton, Wis. It didn't take coaches very long to have him put a hand on the ground and move him forward to the defensive line.
It turned out to be one of the best moves for both parties. Rice turned into a havoc-wreaking force at defensive tackle, and the Wildcats wound up riding their defense to back-to-back Big Ten titles in 1995-96.
By the time Rice was finished, he was a two-time, second-team All-Big Ten selection who had racked up 42 tackles for loss, the third-most in Northwestern history.
Now, Rice can add the title of the best Northwestern defensive tackle over the last 25 years to his mantle.
Rice was named to 42.3% of the ballots from WildcatReport fans to take home the title. He beat out Luis Castillo (29.6%), Tyler Lancaster (19.7%), Barry Cofield (7%) and Corbin Bryant (1.4%).
Ironically, Rice was the only one of those standout DTs who never played a game in the NFL.
Matt Rice Key Statistics
| | Tackles | Sacks | TFL |
| --- | --- | --- | --- |
| Career | 197 | NA | 42* |
| Best Year (1996) | NA | NA | 17 |
Northwestern head coach Pat Fitzgerald has numerous times credited his defensive tackles -- Rice, Ray Robey, Joe Reiff, Larry Curry, et al -- for allowing him to roam around unblocked as he collected two Bronko Nagurski and two Chuck Bednarik awards as the nation's best defensive player.
But Rice did much more than that, making 197 career tackles and more TFL than any defensive tackle to ever wear the Purple & White. He was undersized for most of his career -- he didn't get up to 290 pounds until his senior year -- but was quick off the ball and used his hands well to shed blocks.
The play by Rice that most Northwestern fans will remember occurred in the 1995 season opener. With 3:57 left in the fourth quarter, Rice dropped Notre Dame's Randy Kinder for no gain on a fourth-and-2 at the Notre Dame 44-yard line. It turned out to be the game-winner as the Wildcats, 28-point underdogs at kickoff, ran out the clock for the 17-15 win that ignited their Rose Bowl run.
Rice was named second-team All-Big Ten in 1995 and again in 1996, when he recorded a career-best 17 TFL and Northwestern claimed its second consecutive Big Ten championship.
Not bad for a kid who showed up as a linebacker.
Highlight Reel
1995 Northwestern-Notre Dame highlights. (Go to the 5:18 mark to see Rice's play.)