Best in 25 Years Series: McManis is Northwestern's top cornerback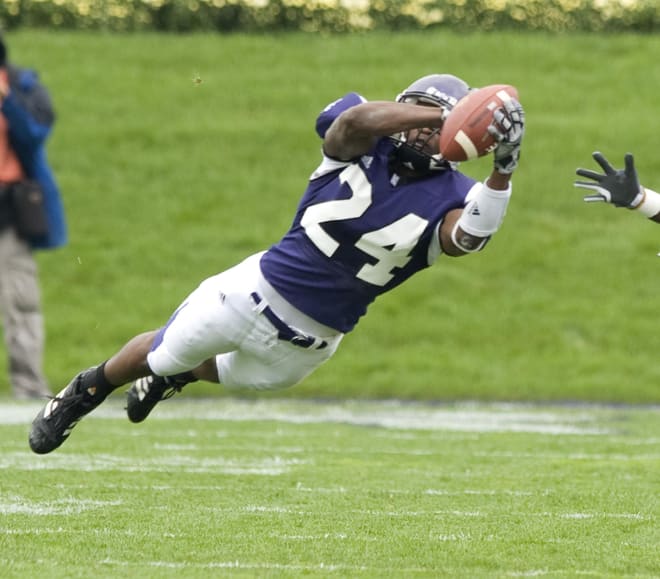 Northwestern prides itself on finding diamonds in the rough in recruiting. Sherrick McManis was like finding an emerald in a junkyard full of broken Heineken bottles.
It's not often that a player that wasn't even in the Rivals database when he was offered by Northwestern just two weeks before signing day winds up as a first-team All-Big Ten pick, a captain, a defensive MVP and an 11-year NFL veteran.
And now McManis can add the title of best Northwestern cornerback over the last 25 years to his resume. He ran away with what we thought would be a tight race, capturing 52.9% of the votes to beat out Chris Martin, who placed second with 19.6%. Nick VanHoose (13.7%), Harold Blackmon (7.8%) and Montre Hartage (3.9%) rounded out the field. There was one vote for Matthew Harris as a write-in candidate.
It was a unique path that landed McManis in Evanston. He failed to get noticed at Peoria (Ill.) Richwoods High School as a junior because, even though he started at running back and cornerback, the fullback got the lion's share of the carries in coach Doug Simper's belly option attack. As a senior, McManis moved to fullback and exploded, running for 1,690 yards and 24 touchdowns while playing eight different positions. He was named Player of the Year in 2005 by the Peoria Journal-Star
But because the other Big Ten schools had exhausted their scholarships by then, McManis was left holding the bag. His only offers were from Illinois State, Eastern Illinois and Western Illinois in late January of 2006 when the Wildcats called him with an offer.
This was one instance where Northwestern's slow-paced recruiting under former coach Randy Walker actually paid off for the Wildcats, as they still had scholarships to give late in the year. McManis quickly claimed the offer and committed.
Sherrick McManis Key Statistics
| | Tackles | PBU | INT |
| --- | --- | --- | --- |
| Career | 201 | 30 | 9 |
| Best Year (2009) | 37 | NA | 5* |
Once on campus, it didn't take McManis nearly as long to get noticed in college.
He made an impact on special teams as a true freshman in 2006, averaging 21.0 yards on kickoff returns and earning Freshman All-Big Ten honors and five straight NU special teams player of the week awards. He also picked up a nickname: Batman, because he seemed to be everywhere.
After an injury to starting cornerback Marquice Cole, McManis wound up starting three games at cornerback that season, including matchups against No. 1 Ohio State and No. 2 Michigan. Against the Buckeyes, he went one-on-one with star wide receiver Ted Ginn Jr. and picked off one of eventual Heisman Trophy winner Troy Smith's passes.
As a sophomore, McManis returned kicks and started at cornerback all season, finishing third on the team with 75 tackles. Realizing how valuable he was on defense, coaches dropped kick return duties from his job description in 2008. He was an honorable mention All-Big Ten pick at cornerback after recording 12 PBUs and two interceptions.
McManis was named captain for his senior year in 2009, when he was both a first-team All-Big Ten selection at cornerback and Northwestern's defensive MVP. He led the Big Ten with a career-best five interceptions, including the leaping stab that closed out the Wildcats' win over Illinois.
McManis finished his career with nine INTs, which ranks ninth in Northwestern history, and 30 PBUs, which ranks fifth.
A fifth-round draft choice of the Houston Texans in the 2010 NFL Draft, McManis is still playing in the NFL at age 32. He played two years for the Texans and is currently in his ninth year as a special teams ace and reserve cornerback for the Chicago Bears. He is the longest-tenured Bear on the roster.
Not bad for a guy no one had heard of just a couple weeks before signing day.