Skill positions the focus of Northwestern's second official visit weekend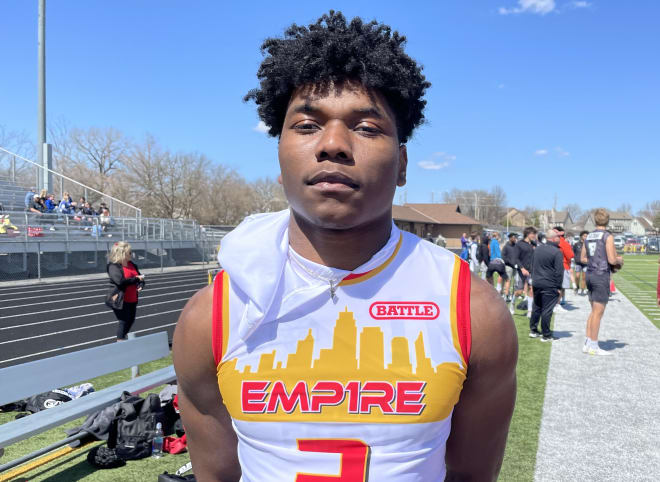 Northwestern feels the need, the need for speed.
Skill position players will be the focus of Northwestern's second official visit of the cycle this weekend.
The Wildcats will welcome six official visitors to Evanston, two whom are already committed to the program and four more that they would like to see join their ranks. All four of the uncommitted prospects are skill position players -- a wide receiver, a running back, a tight end and a defensive back -- who would add some speed to a Class of 2023 that is currently ranked fifth in the nation by Rivals.
Northwestern's 2023 class already features four offensive and four defensive linemen, so the focus on skill positions is not surprising. Neither is the the fact that three of the four targets play offense, as 10 of the16 commitments already on board are defenders.
Ironically, the two commitments who will also be on campus are both big guys. They will try to get more talent to join them in a class that has garnered some national attention and could wind up being the best of head coach Pat Fitzgerald's 16 years in Evanston.
Here is this weekend's guest list:
Prospects
Commitments
While much of the attention will be on the four uncommitted prospects, don't overlook the potential impact of Knox and Senda. The two offensive linemen are both active on social media with Northwestern's recruiting targets and told WildcatReport that they will be trying to recruit future teammates to join them in Evanston.
"Yes very excited about the OV!" said Senda, making sure to end every sentence in his DM with an exclamation point. "Definitely planning on continuing to recruit! Need to continue the successful NU class of 2023!"
The headliner of the group is Jenkins, a four-star running back with track speed whose 29-school offer list includes Florida, Florida State, LSU, Oregon and Penn State. Knox has already targeted Jenkins for his recruiting efforts.
"I'll definitely be productive in speaking with all that I can and try to get them to NU but I'm really looking forward to speaking with Parker Jenkins, RB out of Texas," said Knox. "Need a great back in this class to come run behind this dominant OL class we are bringing in."
Knox isn't limited to running backs, however. He got a jump start recruiting Sanford on Twitter on Thursday:
Northwestern is hoping that this second round of official visits can approach the success of the first one, which may have been the program's best of all time. On May 13-15, the program hosted 13 uncommitted official visitors and landed nine of them, with one more reportedly on the way.
That was a part of a banner May for the Wildcats, who saw their class balloon from six to 16 and rise from 33rd in the national rankings to fifth, the program's highest perch of the Rivals era that dates to 2002.
Will the Wildcats have similar success with their official visitors this time around? Log on to WildcatReport to find out.