{{ timeAgo('2022-06-22 19:26:27 -0500') }}
football
Edit
WR Ricky Ahumaraeze worth the wait for Northwestern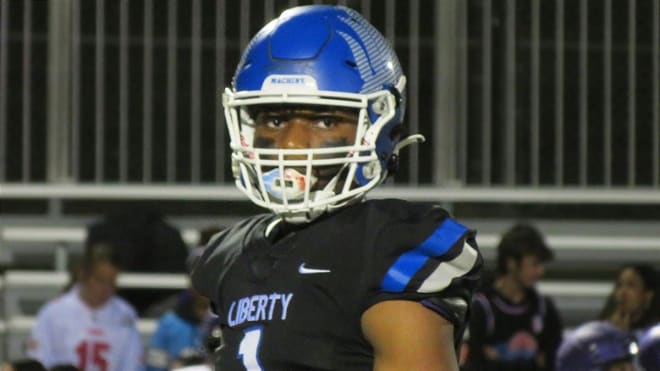 Northwestern had to wait a little while for Ricky Ahumaraeze to make it official.
The three-star wide receiver from Liberty (Mo.) actually committed to the Wildcats on his official visit almost three weeks ago but didn't announce it until today. That's just fine with Northwestern, which added some much-needed size to its wide receiver corps.
The 6-foot-4 Ahumaraeze was one of four uncommitted official visitors the Wildcats hosted on June 3-5. He is the second one of that quartet to commit to the 2023 class, joining tight end Camp Magee.
Ahumaraeze is also the 19th member of Northwestern's class, which is currently ranked eighth in the nation by Rivals.
Northwestern had a rather small wide receiver room last season, with a lot of slot-sized receivers. The addition of Ahumaraezea and 6-foot-2 fellow 2023 commitment Frank Covey IV will give the Wildcats two long targets on the outside in the very near future. Northwestern also has 6-foot-2, four-star freshman Reggie Fleurima joining the lineup this fall.
Ahumaraeze chose Northwestern over offers from Iowa, Kansas, Kansas State and Arkansas State. The Wildcats offered him on February 1, but his official visit was his first time on Northwestern's campus.
It turned out to be all he needed to make up his mind.
Ahumaraeze finished his junior season in 2021 with 35 catches for 545 yards and five touchdowns for Liberty, which is located in the Kansas City metro area.
Northwestern's 2023 class is on a historic pace, holding its highest ranking of the Rivals era which dates to 2002. Much of that has to do with the size of the class: only two schools (Texas Tech and Cincinnati) have more commitments than the Wildcats at this point.
Ahumaraeze is Northwestern's 13th commitment since the program's first official visit weekend on May 13-15. In that time, the class has risen from 33rd to the Top 10 in Rivals' team rankings.